While smaller than the CARES Act, the Response and Relief Act provides much-needed stimulus to continue to bridge the economic gap.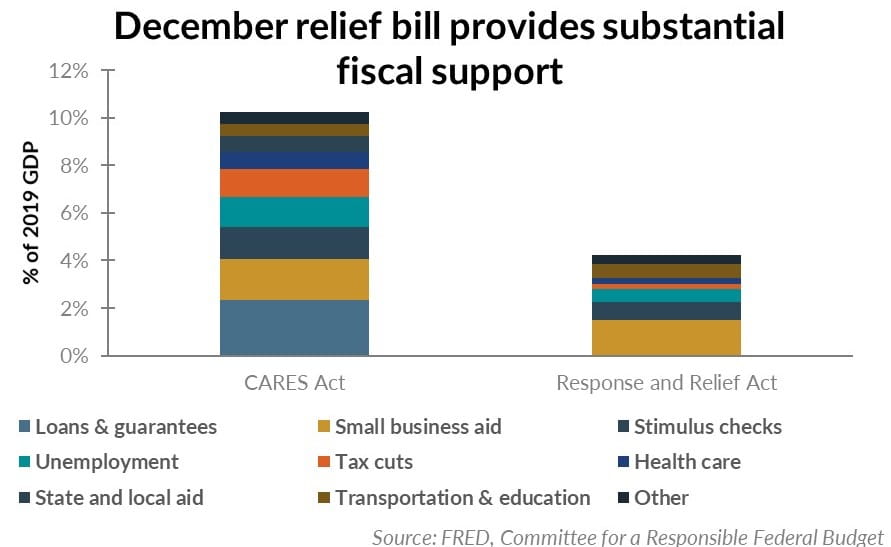 After several months of negotiation, Congress reached a compromise on the terms for additional COVID-19 relief shortly before the end of the year. The bill, known as the Response and Relief Act, provides over $900 billion of stimulus to individuals, corporations, and governments.
Despite being similar to the CARES Act in terms of its scope, the bill is substantially smaller. However, the economy is in a much different place today than it was in when the CARES Act was passed. After hitting a trough in March and April, the economy has experienced an unprecedented economic recovery, with GDP growing more than 33% in the third quarter and jobless claims falling to a fraction of their initial levels. While economic activity certainly remains well below its pre-pandemic levels, the economy is clearly in a much better place.
Furthermore, with several effective vaccines now being distributed, we may be starting to see a path back toward normalcy. Of course, it appears likely to take at least several months before the vaccines are widely available and appropriately administered. In the meantime, the recently passed bill should help to bridge the economic gap that has been created from the response to the virus, with more likely on the horizon. The outcome of the Georgia Senate runoff elections established a Democrat majority by the narrowest of margins, which increases the likelihood of another sizable package. The bottom line? The shot in the arm, from both the vaccine and fiscal stimulus, creates an optimistic backdrop for economic growth in 2021.