Weak retail sales results are bad news for an economy still trying to stay afloat as a flood of new COVID-19 cases across the country present a growing health risk to Americans and a growing threat to the recovery.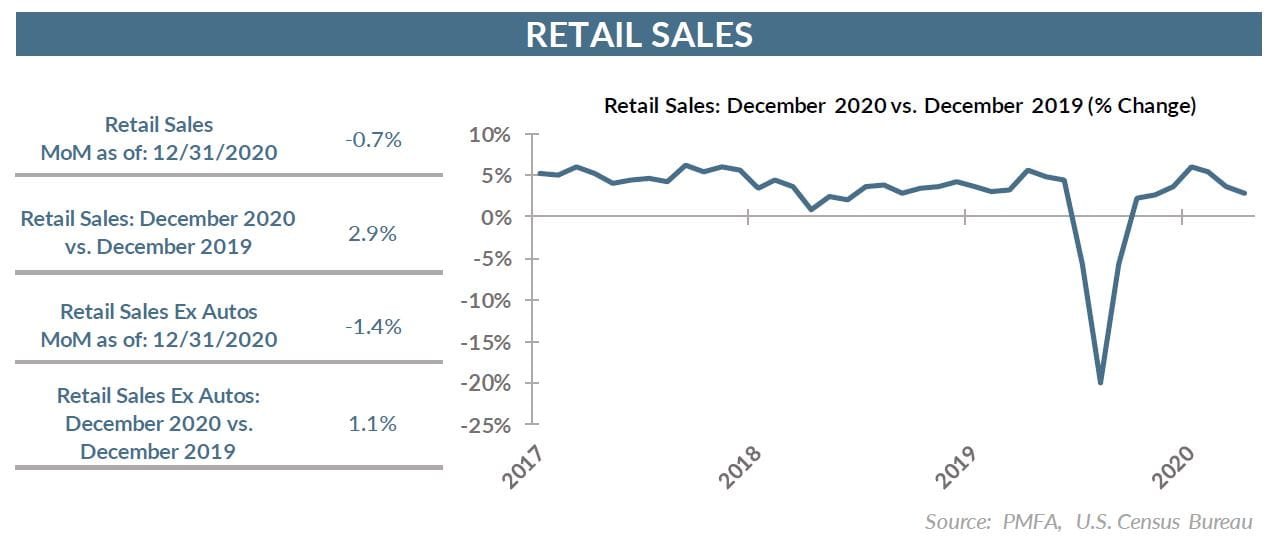 During the most critical months of the year for many retailers, sales declined by 0.7% in December as the resurgent health threat posed by the COVID-19 pandemic took a toll on consumer behavior. Economists had expected stagnant sales, but the degree of decline was disappointing. Stripping out the effects of automobile and gasoline sales that can skew the top-line results, core sales were down an even more pronounced 2.1%.
Also concerning was a sharp markdown in November sales to a more outsized dip of 1.4%, confirming that the slowdown in the consumer sector in recent months was more significant than previously believed.
Weak December results cap an exceptionally challenging year for the retail sector. Restaurants were particularly hit hard as nationwide closures and restrictions took a meaningful bite out of sales, which plummeted over 21% for the year, including a 4.5% decline last month. However, the sharp sales drop for 2020 wasn't limited to restaurants, as department stores and specialty apparel, electronics, and appliance retailers collectively experienced double-digit declines.
Changing consumer shopping behaviors were a powerful tailwind for nonstore retailers — a channel dominated by online commerce — which rose by over 19% last year. The fact that nonstore retail sales dropped by a sharp 5.8% in December is a particularly troubling sign. The weak results last month didn't simply result from consumers staying home and shopping online; they were just tightening their belts and spending less over the past few months.
The meaningful slowdown in retail activity confirms a swathe of data that clearly points to a marked slowdown in the economy in the fourth quarter. It points to the growing risk to the budding recovery as the country comes to grips with the unambiguous health risks presented by COVID-19, the economic fallout from policies aimed at curtailing its spread, and changes in day-to-day consumer behavior.
Additional fiscal stimulus will provide a bridge for households and businesses that are struggling, but it remains to be seen how impactful that stimulus checks to a vast majority of American households will ultimately be. The savings rate surged last summer as many banked that cash or used it to pay debt. It's highly likely that will happen again.
Until the COVID-19 pandemic is brought under control, the underlying durability of the recovery will remain in question. Stimulus can help to alleviate the immediate negative effects but only temporarily. A durable recovery depends on a successful transition to a post-pandemic environment.
With growing signs that vaccine distribution is moving more slowly than expected, it's likely that the expected acceleration in growth in the coming quarters could also be dampened and delayed. Even so, the outlook remains upbeat when looking past the near-term period of uncertainty. There's still a bright light at the end of the tunnel; the question is how long it will take to emerge from the other end. The answer lies in the COVID-19 case and vaccination data. Watch that closely.
Media mentions:
Our experts were recently quoted on this topic in the following publications: