Factories nationwide are still humming despite the uncertainty created by the slowing economy. Normally, softer manufacturing conditions would be expected against the weaker economic backdrop that has recently developed, but very little is "normal" in the current environment.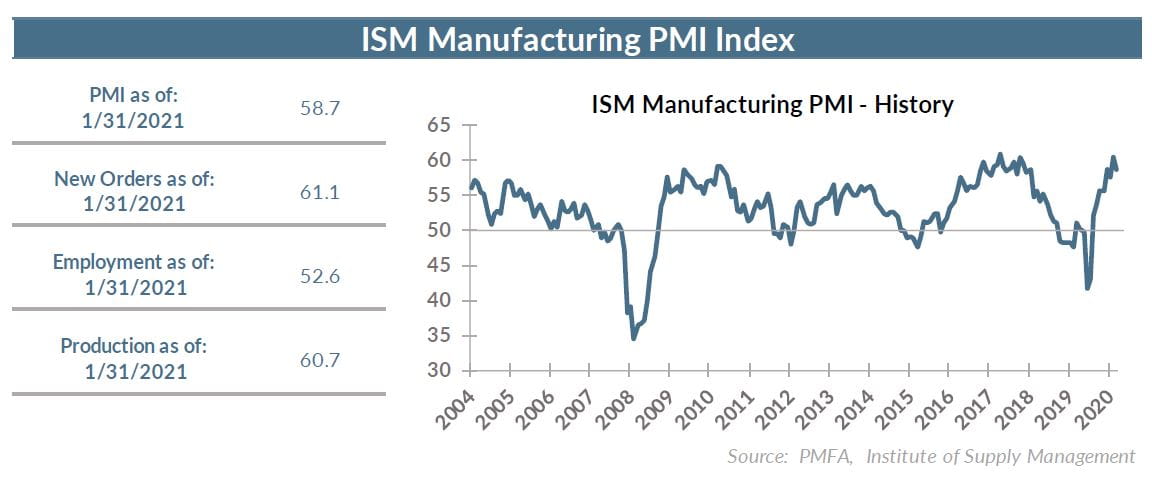 The ISM Manufacturing Index declined to 58.7 in January, indicating that the nation's manufacturers are still expanding, even if the pace of improvement may be showing signs of slowing. Against the backdrop of a marked slowdown in the economy in recent months, that's still good news.
While down slightly from the previous month, the January reading still paints a positive picture for the manufacturing sector, as a reading well above 50 indicates continued robust expansion within the sector.
The fact that manufacturing conditions are this strong would normally be surprising given the marked deceleration in the economy, weaker employment conditions, and tighter consumer spending in recent months. Nonetheless, these aren't normal times, and the softening of the economy isn't reflected as notably in typical sectors and industries.
Manufacturing has weathered the most recent storm created by the resurgent spread of COVID-19 and resulting restrictions relatively well. The impact has been much more apparent in the service industry, where basic social-distancing protocols make it more difficult to deliver those services in the current environment.
Key components of the survey were somewhat mixed, but still generally positive. As an important indicator of future strength for the sector, new order growth slowed from 67.5 to 61.1, which is still a brisk pace. The employment subindex improved fractionally from 51.7 to 52.6. Manufacturers are continuing to hire, although many employers are finding it difficult to find skilled workers to fill their needs. Unemployment remains elevated but was much tighter in manufacturing (4.3%) in December than the overall jobless rate of 6.5% for the economy as a whole.
One cautionary note is apparent in the range of commodities that are increasingly in short supply and for which prices are rising. Supply chain disruptions are being felt, not only as a lingering result of trade policy, but the backup in inbound ships that can't be unloaded fast enough as the pandemic has depleted the workforce at multiple West Coast ports. The result is a shortage of supply for many commodities, crimping production despite robust customer demand and exceptionally low customer inventories.
The bottom line is that the manufacturing sector is bucking the broad slowdown underway and remains a relative bright spot for the economy. Consumer demand for goods has held up better than for many services — a highly unusual circumstance in historical context, but one that has benefited the sector thus far.
Media mention:
Our experts were recently quoted on this topic in the following publication: