Jobless claims remain high, but additional stimulus should help support the economy while vaccines become increasingly available to a growing number of Americans in the coming months.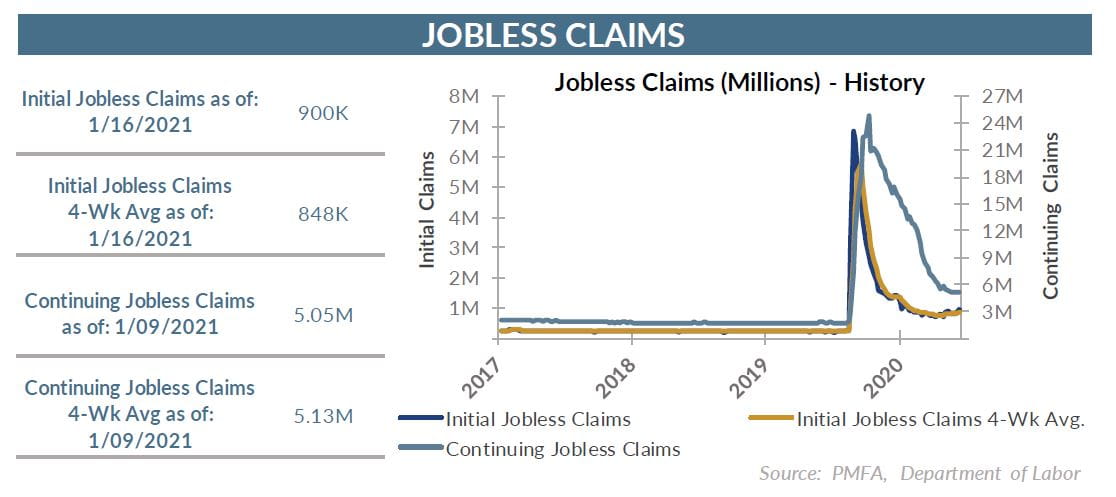 First-time jobless claims declined last week to 900,000 from a revised 926,000 for the week ended January 9. Of particular note was the sharp downward revision to the prior week from a preliminary estimate of 965,000. Despite that sizable adjustment, current-week claims were notably lower.
The range of economist estimates for the week was quite wide, reflecting the difficulty in estimating layoffs against the crosscurrents of seasonal effects, a softening economy, and the uncertain impact of closures and other restrictions implemented in response to the worsening of COVID-19 risk across the country late last year.
Recent weekly data was likely muddied by distortions from the post-holiday elimination of some seasonal workers. Still, with so many retailers feeling the effects of changing consumer behaviors due to the pandemic, it's unlikely that seasonal hiring — and subsequent terminations — in 2020 were comparable to a typical year.
With the number of daily COVID-19 cases declining in the past few weeks, there have been discussions around some restrictions being relaxed in the coming weeks, which could alleviate the headwind to labor markets. That's far from guaranteed though. The emergence of a new, faster-spreading strain of the COVID-19 virus creates a new risk, one that could create a significant impediment to a reduction in restrictions on certain businesses in the near term.
The underlying risk is that any short-term reductions in the spread of COVID-19 could be temporary until much more progress is made on the successful distribution of vaccines to a much larger number of Americans — a process that's expected to extend for some time, perhaps well into the latter half of the year.
Against that backdrop, the passage of additional fiscal stimulus and another potential tranche of relief represent important lifelines for many individuals, businesses, governmental entities, and healthcare providers that have been negatively impacted by the economic fallout from the pandemic. Stimulus alone may not be enough to drive a resurgence in consumer spending, but income replacement for unemployed workers and support for businesses to maintain payrolls should help to stem the negative trend.