While the Consumer Price Index is nearly certain to rise further in the near-term, the surge should be short lived.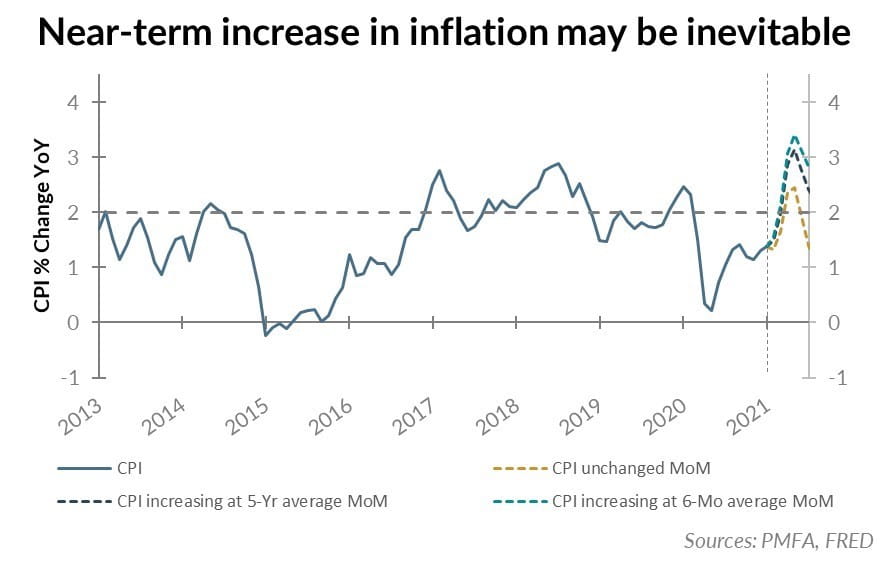 In the midst of the widespread economic shutdowns that sent the economy into recession last year, consumer prices fell notably in early 2020 in tandem with collapsing consumer demand for many non-essential products. However, since falling to near zero last May, the Consumer Price Index (CPI) has edged higher. Fiscal stimulus has caused federal deficits to balloon over that period, raising concerns for many investors about the risk of inflation continuing to rise toward levels not seen in many years. How great is that risk?
Inflation is expected to continue to edge higher in the coming months. With vaccine distribution progressing, the economy is expected to continue to reopen across the country. As consumers return to more normal spending patterns, rising demand may provide a lift to prices, particularly for goods or services for which supply might be slower to adjust. That demand growth could be further amplified by a third round of stimulus checks expected in the months ahead for a brief period.
Even if prices are relatively stable in the coming months, the nature of the calculation itself means that the CPI will continue to rise. As the disinflationary months of April and May 2020 fall out of the 12-month calculation, they will almost certainly be replaced with increasing prices this year. Even if actual prices are unchanged over the next few months, the CPI will almost certainly rise above 2.0% for a brief period. Modest increases in prices could push the CPI above 3.0% briefly. However, such an increase is expected to be temporary, and consumer price inflation is still expected to recede in the latter half of the year. In our accompanying piece, we discuss the outlook for the next few years.