Plenty of evidence in recent months suggested that consumers had been down; the January retail sales report just sent a clear message that they are certainly not out.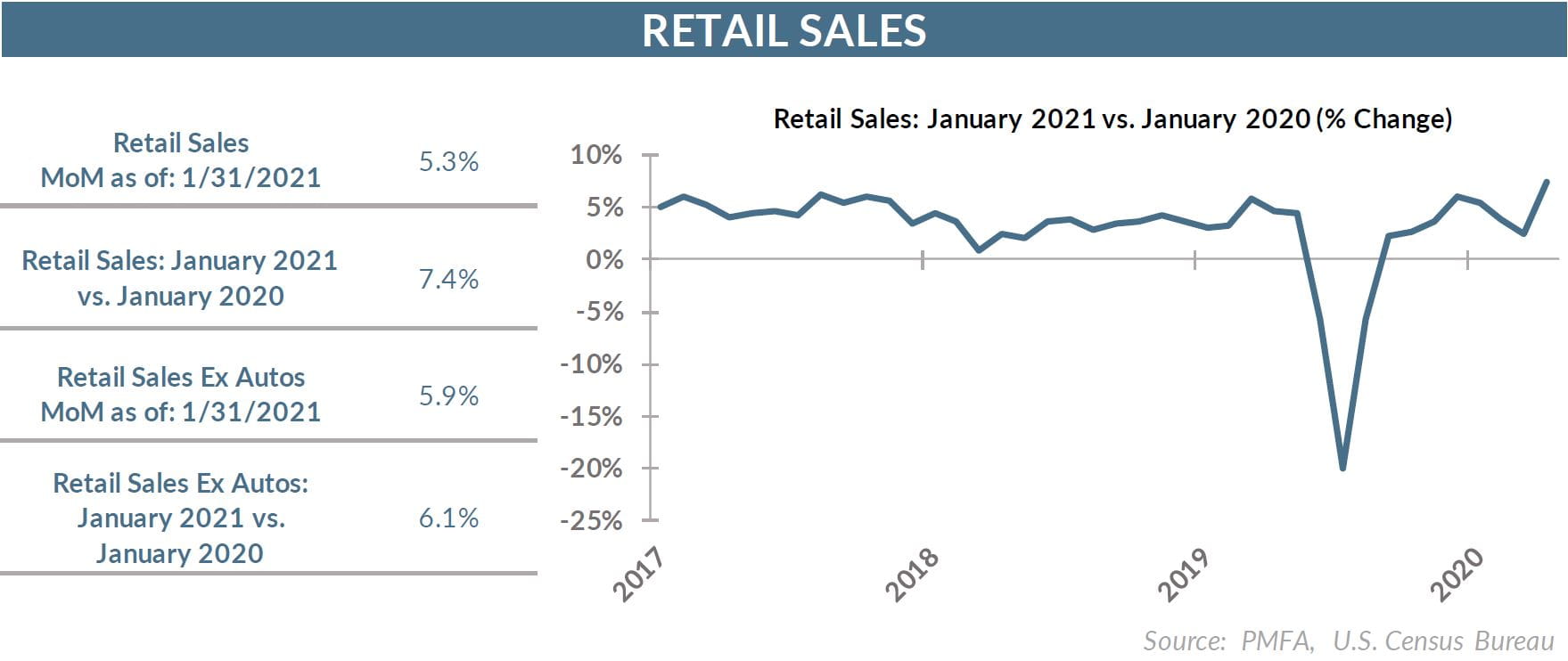 Retail sales had been exceptionally soft in in the last three months of 2020, signaling a broad weakening in consumer spending in the face of a national resurgence in COVID-19 cases. That changed in dramatic fashion last month, fueled in part by another round of stimulus checks that put cash in the hands of most households. Retailers saw a 5.3% increase in sales in January, shattering expectations for a 1.2% gain and providing additional reason for hope that better days for the sector are ahead.
Consumer spending gains were distributed across a wide range of retail sectors, but double-digit gains on bigger-ticket items for furniture, electronics, and appliances were particularly noteworthy. With parts of the country starting to lift restrictions, restaurants benefited with a 6.9% rebound over the prior month. The sector remains among the hardest hit parts of the retail market, with sales still off nearly 17% over the past year.
Even department stores, which have been hammered by the near-term economic challenges and secular changes in consumer shopping preferences, saw their sales surge by over 23%. Nonstore retailers – a category dominated by the online retail channel that has taken market share from traditional brick-and-mortar stores – posted an 11% gain for the month. Over the past year, the explosive increase in online shopping lifted nonstore sales by nearly 30%.
The most recent round of stimulus checks undoubtedly played a critical role in the outsized boost in spending, but the willingness of consumers to spend not only on necessary goods, but on discretionary expenditures as well is a positive sign about their current mindset.
January's outsized rebound reflects a pace that is not likely to be sustained, but the sharply positive reversal is a powerful signal that the recent soft patch isn't likely to last, so long as progress toward re-opening the economy continues.
Given the more austere conditions of the last year, economic activity has been expected to accelerate in the coming months as pent-up consumer demand is unleashed. Broadly speaking, household balance sheets are in better shape than they were a year ago, providing a solid financial foundation for consumers to ramp up spending. Layer on an additional round of stimulus expected and continued progress on vaccine distribution and the outlook for consumer spending in the months ahead should be relatively strong. That would be very good news for the retail sector, particularly coming off an unusually weak holiday shopping season.
The hope is that the coming spring thaw not only breaks the back of the unseasonably cold conditions across much of the country, but also coincides with a more sustained heating up of consumer activity and overall economic conditions. Continued progress in effective vaccine distribution is a critical component, but there's certainly reason to be optimistic that the economy has weathered the recent storm and could be well positioned to regain some of the momentum that had been lost late last year.