Surging energy costs lifted consumer inflation by 0.3% in January, but the inflation story ended there. Higher prices are still coming, but not yet.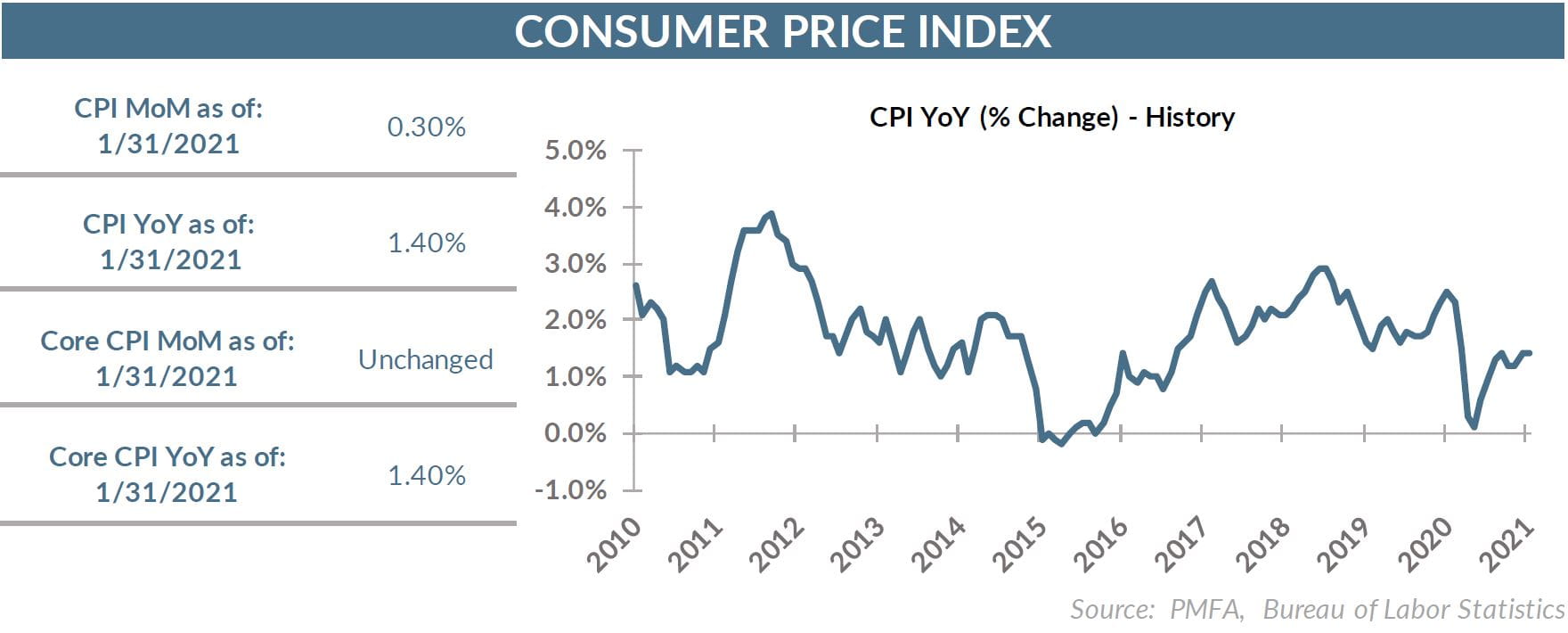 The consumer price index (CPI) rose 0.3% in January-— an increase that was in line with expectations. Excluding the usually more volatile food and energy prices, core CPI was unchanged for the month. An outsized 7.4% increase in gasoline prices was nearly the sole driver for that increase, lifting broad energy costs by 3.5% for the month. Food prices held relatively steady, rising by a mere 0.1%; the aggregate cost for all other measured goods and services washed out to zero for the second consecutive month.
Even with that somewhat elevated 0.3% increase, the consumer price index held firm at 1.4% on a year-on-year basis; core inflation was also unchanged at that same level.
Underlying the data is the mixed story of changing demand driven by the seismic shift in consumer behavior in response to the COVID-19 pandemic and related restrictions and lockdowns.
Significant nationwide reductions in mobility cut gasoline demand over the past year. The price surge in the past two months notwithstanding, energy prices are down nearly 9% since January 2019. Apparel costs have fallen as remote working and schooling environments for many have made the old "business-casual" look formal by comparison. Travel and recreation-related costs including lodging have declined as spending was slashed to varying degrees.
Conversely, food costs have risen by 3.8% over the past 12 months. Initially, prices spiked in response to many households building stockpiles in anticipation of extended lockdowns. As that dynamic faded, the change in behavior that favored eating at home over dining out supported sustained demand strength and pricing.
Beyond the mixed impact of pricing for the range of goods and services, housing costs remain the elephant in the room for broad consumer price measures. Comprising nearly one-third of the index, shelter costs have barely budged in recent months and increased by only 1.6% over the past year. The sharp decline in hotel rates have helped, but owner-equivalent rents at a 2.0% year-over-year gain points to relative stability in housing costs. Low interest rates and surprisingly solid housing demand should lift housing costs though, making this a particular area to watch in the coming quarters.
Growing chatter about inflation risk is understandable given the massive fiscal and monetary stimulus thrown at the economy in the past year, with more expected. Inflation gauges are almost certain to surge in the near term even if monthly gains are lackluster. Significant disinflationary pressures that emerged a year ago as the economy was shutting down will create a low base for inflation calculations. As a result, CPI readings could surpass 3.0% at least briefly in the coming months.
Price increases are expected to settle down as the year progresses though, even if the economy regathers momentum. Unemployment remains elevated, and it will take time for the economy to recover the 10 million jobs that have still not returned since the economic recovery began.
Other forces that drive prices are likely to be mixed, but the potential for inflation to heat up more than anticipated certainly exists. That may challenge the Fed as they try to balance their dual mandate of price stability in the context of full employment. It could also mean that "full employment" could result in a jobless rate higher than the half-century low of 3.5% reached in 2019 and a need for the Fed to raise rates sooner than expected.
For now, the bottom line is that there's still enough slack in the economy that even the continued injection of stimulus hasn't meaningfully moved the needle on inflation. Stronger inflation pressures are coming, but not yet.