Corporate earnings are expected to rebound sharply in 2021, particularly for small companies and value-oriented sectors.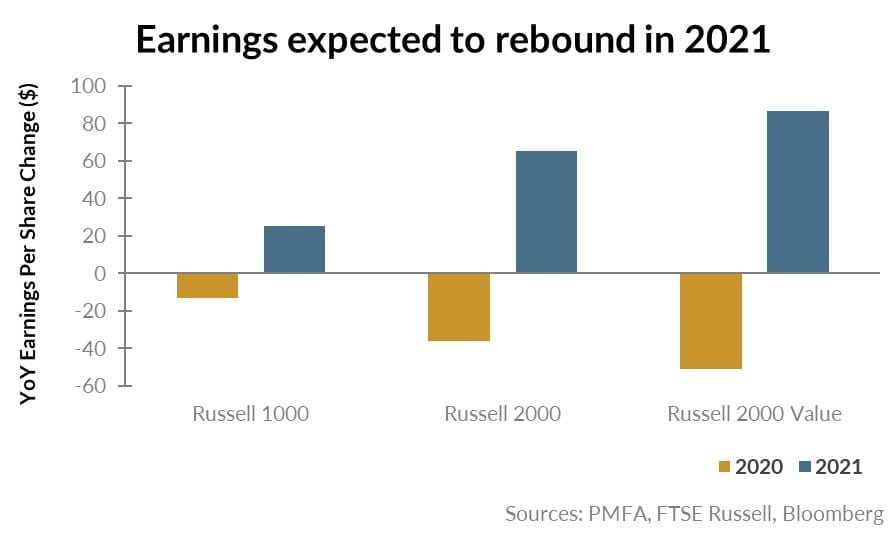 2020 was an incredibly challenging year for corporate earnings, as the COVID-19 pandemic took hold and resulting lockdowns led consumer spending to collapse and revenues to plummet for many companies across a range of industries and sectors. Smaller companies were hit particularly hard, compared to larger ones whose greater resources and more diverse revenue streams allowed them to weather the downturn more effectively. Value-oriented sectors were also more heavily impacted, as they tend to be cyclically sensitive sectors and more vulnerable to a marked decline in the economy.
As shown in the chart above, large-cap (Russell 1000) and small-cap stocks (Russell 2000) experienced substantial declines in earnings per share over the course of 2020. However, earnings are projected to rebound significantly in 2021 and even eclipse 2019 levels. Small-cap value stocks in particular are projected to see a massive increase in earnings this year in a sharp reversal from last year's outsized drop.
As we note in our accompanying piece, in addition to the difference in expected earnings, small-cap value stocks have meaningfully underperformed large-cap stocks over the past few years. Notably though, that trend has begun to shift in recent months, with cyclical segments of the market outperforming. As COVID-19 vaccines become more widely distributed and the economy gradually reopens, small-cap value stocks should be well positioned to benefit from the broad pickup in activity.