The newest round of stimulus brings the total COVID-19-related fiscal stimulus to nearly 25% of GDP — a massive amount by virtually any historical measure.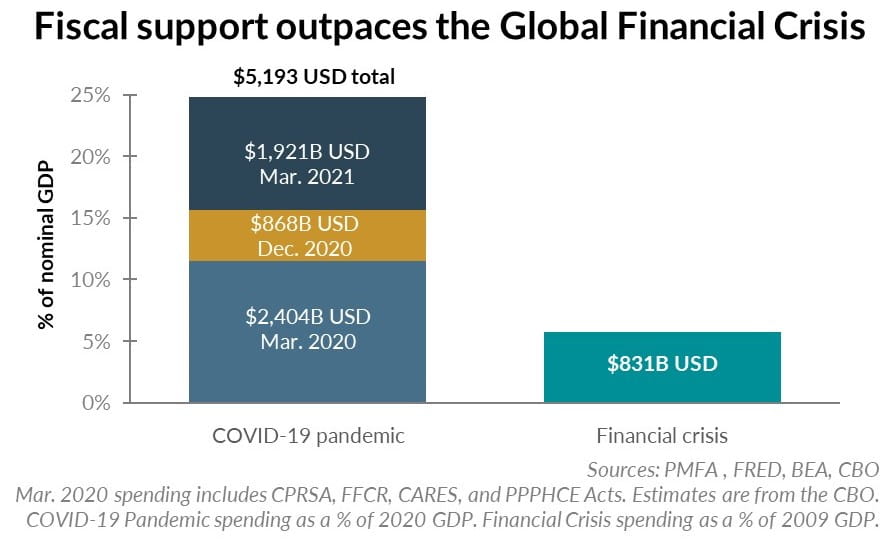 Since the outbreak of the COVID-19 pandemic, global fiscal relief measures have been unleashed in an effort to support the global economy in the face of an unprecedented collapse in spending. The recently passed American Rescue Package was the fifth round of legislation providing additional cash to individuals, businesses, the healthcare system, and state and local governments.
As illustrated in the chart above, the cumulative targeted spending and transfer payments distributed by the federal government over the past year had as price tag of over $5 trillion, amounting to nearly 25% of 2020 nominal GDP. How does that compare to prior spending packages? Fiscal aid enacted during the Global Financial Crisis (GFC) totaled approximately $831 billion — just over 5% of 2009 nominal GDP, which was a significant outlay at the time. A 2010 report by the Congressional Research Service indicated that the aggregate military cost incurred by the United States in World War II was about $4.1 trillion. By virtually any measure, the fiscal outlay aimed at sustaining the economy through the past year has been immense.
It's safe to say the COVID-19 crisis is amounting to be one of the costliest relief efforts in U.S. history. The massive infusion of cash contributed significantly to perhaps the fastest economic recovery in U.S. history. Another round of stimulus should fuel further growth in consumer spending, keeping the economic engine on track in the near term.