Fiscal stimulus is putting more money in consumers' pockets at a time that the economy is already showing signs of increased activity.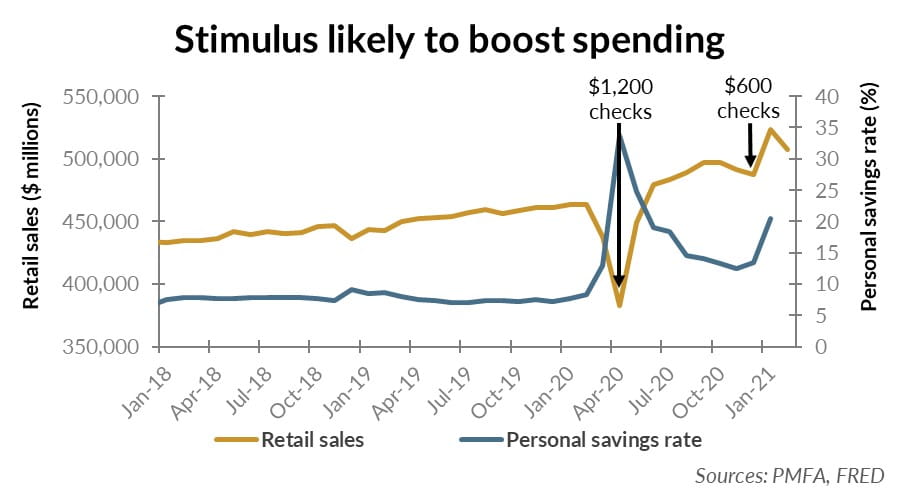 As summarized in our accompanying piece, the American Rescue Package passed last week is the fifth significant federal bill to address the economic fallout from the COVID-19 pandemic in the United States. The package includes $1,400 stimulus checks for individuals, including dependents, subject to income limitations, as well as an additional $300 weekly unemployment benefit for sidelined workers. This additional stimulus is expected to provide a large boost to spending in the months ahead.
As illustrated above, the immediate effect of last year's stimulus payments and supplemental unemployment benefits was a sharp spike in personal savings. A similar, though less significant, effect was apparent earlier this year with the second round of payouts. Many recipients used at least a portion of that cash to reduce debt or replenish savings, but a significant amount was spent, lifting personal consumption since the middle of last year. That was particularly impactful for households that had been negatively affected by unemployment or other lost income as a result of the sudden, steep decline in the economy earlier in the year. After that initial increase in savings, however, a surge in spending followed.
With the economy already showing strong evidence of reacceleration this year, another substantial round of fiscal stimulus should add more fuel to the fire. Consumer spending will likely surge again in the coming months — particularly as restrictions are lifted.