The nation's factories are continuing to cycle up to meet growing demand as evidence grows that the economic soft patch has passed.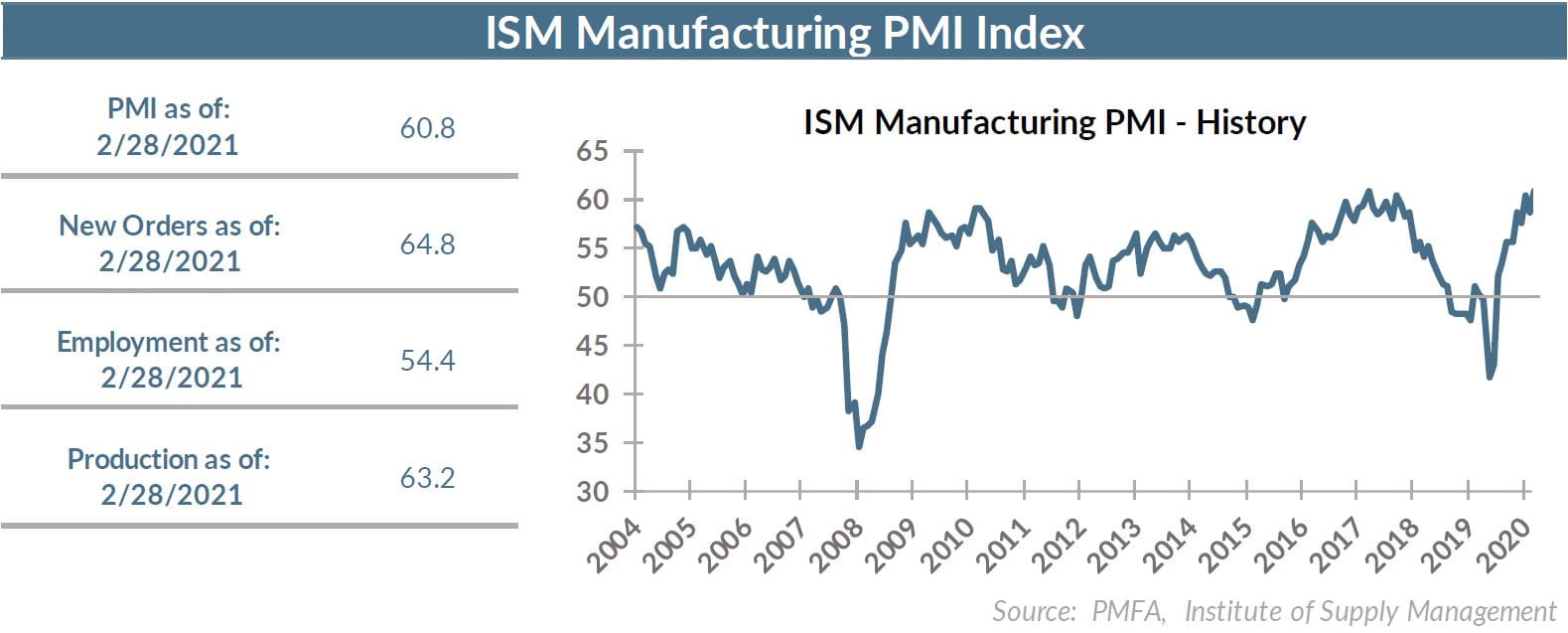 The ISM Manufacturing Index rose to 60.8 in February, exceeding the consensus among economists and strengthening from January's already-robust 58.7 reading. The news for the manufacturing sector remains positive; not only is activity growing, but it's accelerating as the immediate risk presented by the late-2020 surge in COVID-19 cases across the country is fading.
Increasingly, it appears that the economy sidestepped a feared hard landing despite a period of soft consumer spending that contributed to negative conditions for parts of the service sector and a surge in layoffs. If anything, it appears that manufacturers may have benefited from consumer spending habits that favored goods over services in recent months.
There is underlying strength in most measures of manufacturing conditions. New orders are expanding at an accelerating pace with the related index surging to a robust 64.8 last month. New export orders are lagging, but still picking up steam as well. Production is ramping up to meet that demand.
Over much of the past year, employment lagged growth in production and orders, and that remains the case. Still, the employment index increased to 54.4 in February — its third consecutive monthly gain, suggestive of a growing confidence that the rebound in demand has sufficient legs to justify adding to production payrolls.
If there's a cautionary note in the survey, it's the broad increase in prices for underlying commodities and the range of raw goods that are supply-constrained. As an early indicator of consumer prices, the breadth of price hikes for raw materials is certain to put upward pressure on goods prices in the coming months. How much of those higher costs will ultimately be passed along to consumers remains to be seen, but a near-term increase in consumer prices appears increasingly likely. As conditions normalize and the surge in demand is absorbed, prices should begin to stabilize as well. The long-term disinflationary benefits of globalization and technology remain intact, and demographic trends in the United States will still impose a practical limit on long-term economic growth once the economy reverts to its pre-pandemic trend. It still seems that higher consumer prices should prove temporary as the influence of those larger macro forces counterbalance short-term supply and demand concerns.
The bottom line? The manufacturing sector held up relatively well during the Q4 soft patch and is now helping to lead the way back toward a more robust recovery. Continued progress on vaccine distribution and a gradual return to more normalized conditions will be critical for the economy to reopen and for a durable recovery to be sustained. For now at least, there's reason to be optimistic about the outlook for the year ahead — not only for the manufacturing sector, but for the economy as a whole.
Media mention:
Our experts were recently quoted on this topic in the following publication: