Long-term rates have risen steadily since late last year and may continue to move higher. However, stocks typically perform well as rates rise.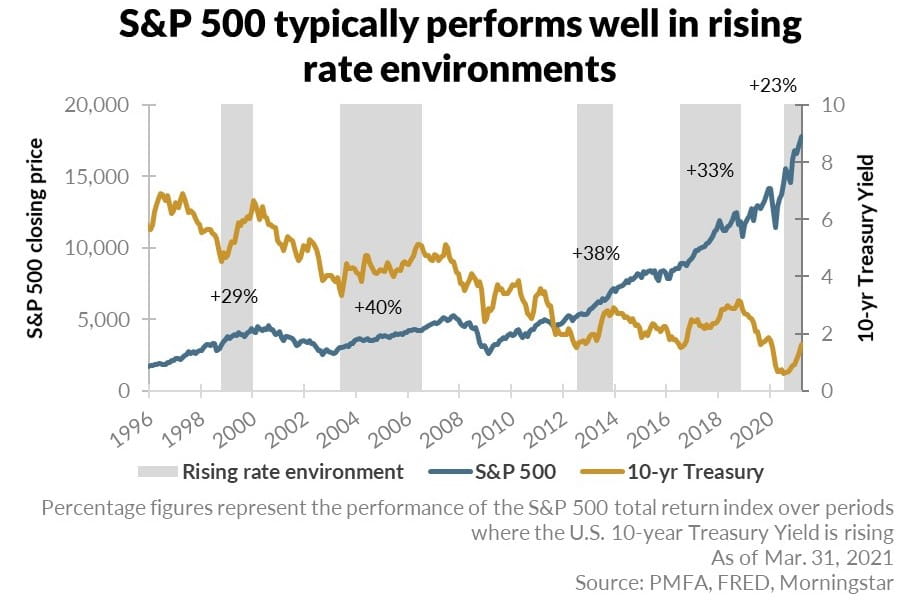 Long-term interest rates have risen smartly since last fall, with the 10-year Treasury rate now hovering around 1.6% compared to lows of near 0.5% last summer. While long-term rates have stabilized over the past few weeks, further increases seem probable if the economy continues to reopen, growth expectations strengthen, and inflation picks up.
The rise in interest rates sparked some volatility in equity markets, particularly in growth-oriented sectors such as technology and communication services. In light of this, investors may be wondering what impact a continued rise in rates could have on their equity portfolios.
Over the past 25 years, periods of rising long-term interest rates have consistently coincided with periods of strong U.S. equity performance. Over that period, those rate increases correlated with improving growth expectations, which tend to correlate with improving corporate earnings, driving stock returns. It's also important to remember that rates remain very low by historical standards, and an accommodative Fed is expected to hold short-term rates near zero for some time.
While a continued rise in rates may contribute to short-term bouts of market volatility, the same conditions that may push interest rates up should also contribute to stronger corporate revenue and earnings, which is generally a positive catalyst for equity performance.