The marked decline in jobless claims for the second consecutive week suggests that last week's drop wasn't simply an anomaly. The labor market appears to be taking another welcome, and needed, step forward.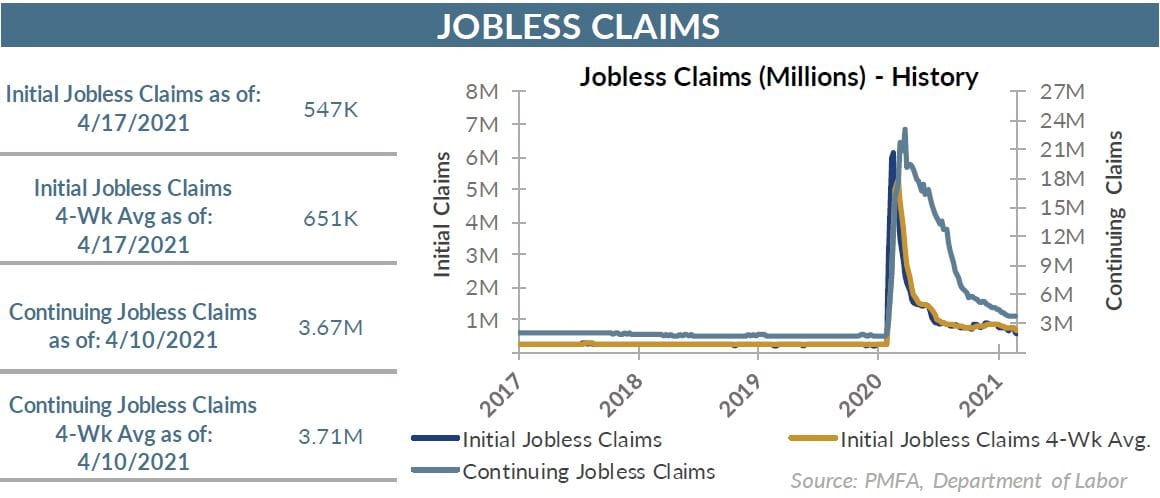 First-time jobless claims dipped to 547,000 last week, falling by another 39,000 from an upwardly revised 586,000 for the preceding week. Economists had expected a moderate increase in weekly claims.
Directionally, the recent sharp decline in initial claims represents marked improvement in labor market conditions and is consistent with a significant pickup in economic activity in recent months. The gradual reopening of the economy continues, making it easier for consumers to engage in activities that were previously considered off the table. That has been particularly beneficial to the hard-hit service sector, which has been revived by the lifting of restrictions and greater consumer mobility. The leisure and hospitality sectors in particular are benefiting, supporting a significant return of workers that have been sidelined for much of the past year.
Ongoing progress in vaccine distribution has emboldened many Americans with measured confidence to begin to return to pre-pandemic activities. The influx of cash from the federal government has provided additional fuel for spending. While much of that cash is still bottled up, consumer spending has clearly picked up over the past few months.
What we're seeing is a bolstering of a virtuous cycle for the economy that's been lifted by surging consumer spending, driving better demand for a range of goods and services and pushing employers to respond to that increased demand by adding workers.
The recent improvement notwithstanding, the number of Americans filing for weekly unemployment insurance remains elevated by historical standards. Even at 547,000 for the most recent week, claims remain quite high, leaving much room for continued improvement in the coming months. Still, that represents the lowest weekly tally since last March, shortly before the full impact of the pandemic hit the American economy.
Further, with payrolls across the country still more than 8 million below their pre-pandemic peak and an unemployment rate of 6.0% that remains elevated, there's plenty of room — and need — for strong job creation in the near term to return the labor market to full health.
The bottom line? A labor market that's clearly picking up steam confirms the acceleration in growth this year, but also bodes well for the economy in the months ahead. With more Americans finding jobs, measures of consumer confidence are likely to improve as well, further reinforcing stronger consumer spending as a key underpinning for a positive outlook for the economy.