The ISM Manufacturing Index slips to 60.7 in April
The surge in manufacturing continues, as consumers — emboldened by the easing of restrictions and fueled by stimulus cash — continue to spend briskly on a wide range of goods.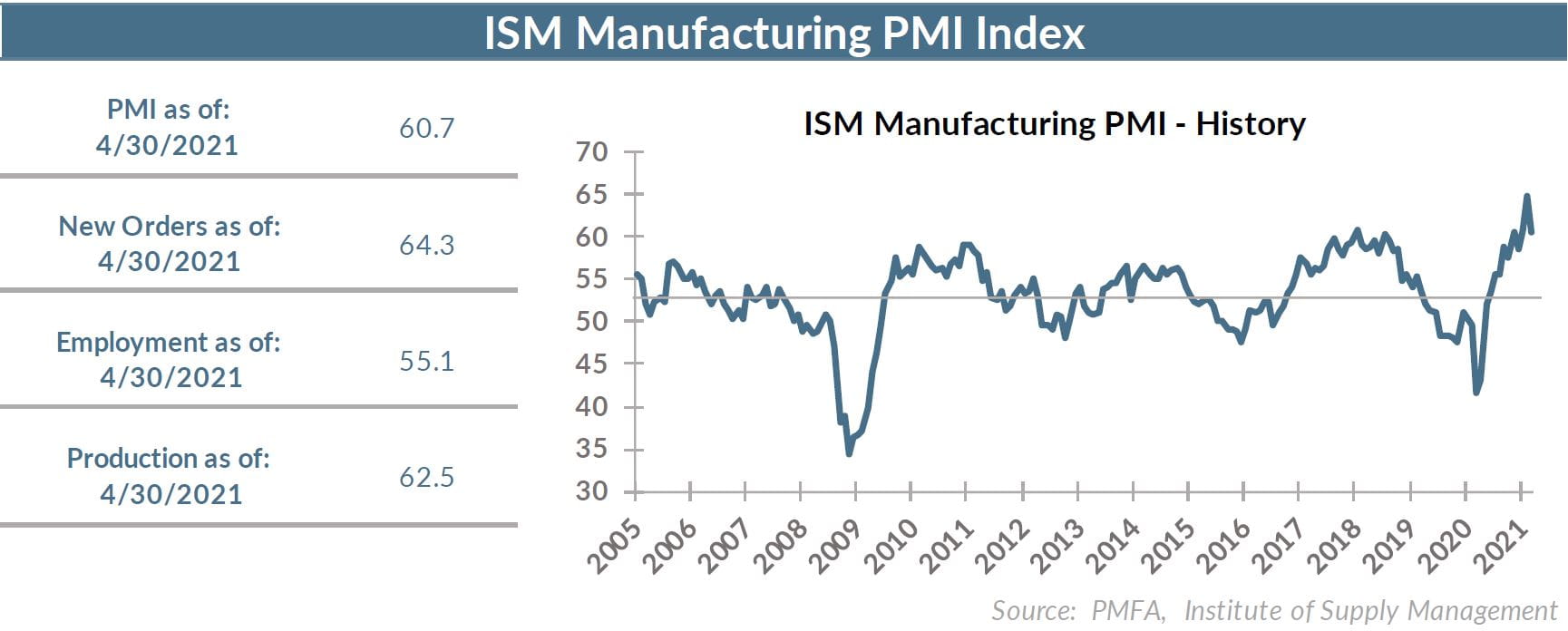 The ISM Manufacturing Index eased in April, slipping to 60.7 from 64.7 in March. The decline was a moderate surprise, as the consensus forecast had called for a slight uptick to 65.0. Despite the decline, the manufacturing economy remains on a solidly expansionary path, indicative of the broad resurgence in the economy that began last summer and continued to gather momentum in recent months.
Manufacturers profited from strong demand for a range of consumer goods. Most American households have benefited from multiple rounds of government stimulus checks on top of further improvement in job market conditions in recent months. Coupled with a surge in savings last year, the average household is in a better position to spend than they have been for some time. They're also more willing to spend, given the tangible progress in vaccine availability and growing confidence, although not all industries are benefiting to the same degree.
Despite meaningful signs of a pickup in activity in the service sector, the combination of restrictions and behavioral changes for many consumers is still inhibiting spending for various activities, particularly in leisure and travel. Instead, consumers are spending their newfound cash on a range of products. That clear preference has largely benefited the manufacturing and residential construction sectors of the economy.
Although the manufacturing PMI softened last month, the message is still largely positive. New orders, production, and employment — all key indicators of the strength of the manufacturing sector — are expanding at a solid clip. Inventories are contracting, suggesting that production is struggling to keep pace with demand.
Those factors could become more challenged in the coming months, as the lingering effects of supply chain disruptions continue to be felt by many producers, and prices across a variety of commodities and components are surging. Of particular note is the growing shortage of semiconductors, which may create further challenges for producers trying to keep pace with brisk demand for automobiles and electronics.
One critical question will be the degree to which producers can pass along cost increases to their customers. Strong demand will help in that regard, but some erosion in profit margins are possible if companies struggle to keep pace in raising their prices to keep pace with higher costs.
The bottom line? The pace of expansion in the manufacturing sector may be slowing, but activity remains brisk, fueled by strong consumer spending and massive government stimulus. Whether that pace can be maintained remains to be seen. Even a well-positioned and eager consumer sector could cool as price hikes accelerate, and the potential for supply chain disruptions to slow production further could continue to curtail sales.
Media mention:

Our experts were recently quoted on this topic in the following publication: