Although the manufacturing sector remains expansionary, inventory shortages, slower delivery times, and hiring challenges are crimping production. Strong demand is a good problem to have, but it continues to strain manufacturers' ability to keep pace.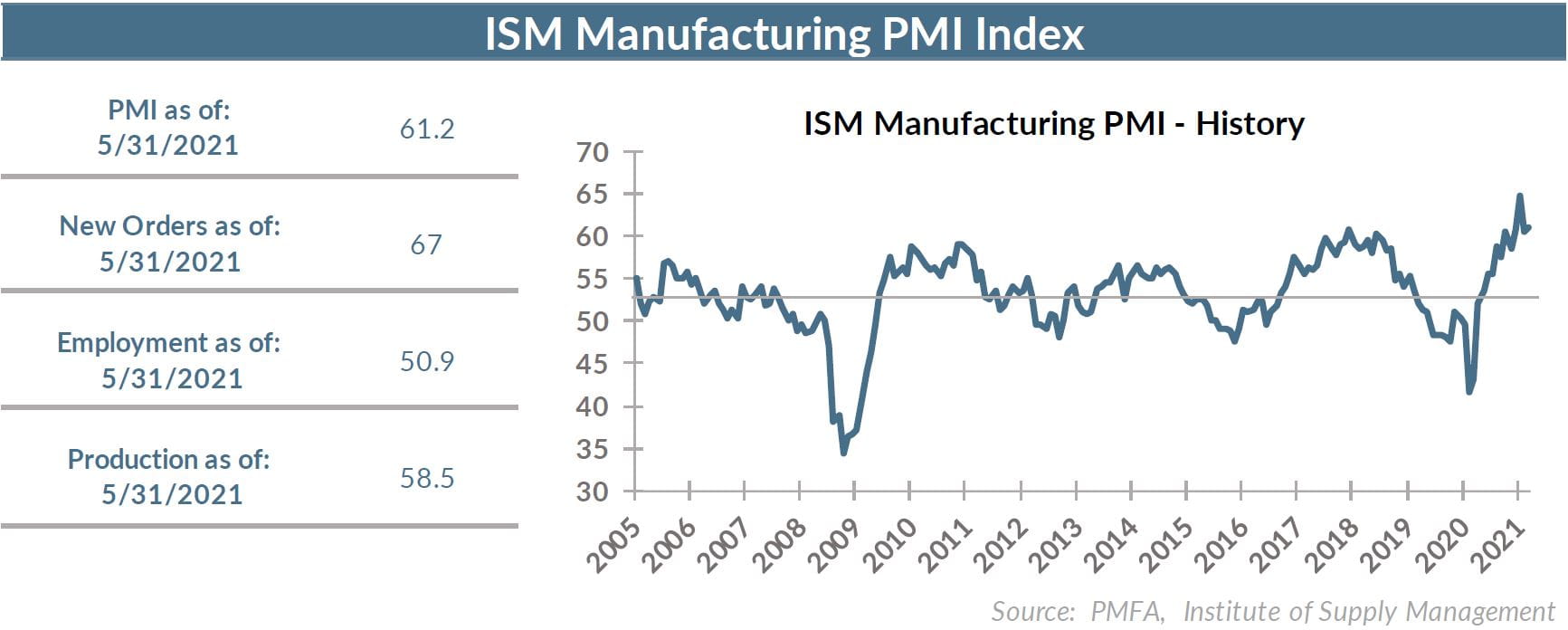 The ISM Manufacturing Index edged fractionally higher in May to 61.2, modestly above the consensus forecast, marking the 12th consecutive month of expansion in the sector.
Strong growth in new orders continues to drive the manufacturing rebound, as robust consumer demand fueled by fiscal stimulus has been a powerful catalyst for the nation's factories. Still, beneath the strong headline number are growing challenges that, if unaddressed, could become increasingly problematic for the industry.
The employment index dropped from 55.1 to 50.9, indicating that fewer businesses are adding to payrolls. That's not to suggest that they aren't trying to do so, but a growing majority of employers are experiencing difficulties in the hiring process. While there are undoubtedly a range of reasons for those challenges, enhanced unemployment benefits and continuing childcare struggles are among the greatest.
A record-setting number of job openings should be welcome news for millions of unemployed Americans, but the slowdown in the pace of job creation is indicative of other impediments. It's not a lack of jobs that's a problem; it's moving sidelined workers back onto payrolls.
Job creation should accelerate as enhanced jobless benefits are eliminated and a widespread return to in-person schooling becomes more of a reality. In the meantime, success in filling openings will likely remain a challenge for not only the manufacturing sector, but also across the economy.
Growing backlogs, depleted stocks, and slower deliveries are also having an impact, as the lingering effects of supply chain disruptions and growing demand are pinching inventories throughout various industries.
Tight labor conditions and inventory shortages are creating a negative snowball effect for producers — one that's becoming increasingly challenging as consumer demand remains robust. The result isn't only higher prices, but the potential that the manufacturing sector could be set up for a slowdown — not because demand isn't there, but because the resources simply aren't available to keep lines running at full capacity.
The good news is that these growing headwinds should be alleviated as jobless benefits are trimmed and more unemployed individuals return to the workforce. Solving all of the supply chain challenges could prove a bit more daunting though, depending on the source of the bottleneck. For some industries, it's a problem that extends beyond the United States to disruptions in other parts of the world.
The bottom line? The nation's factories are humming, with strong demand for products supporting activity that would be even stronger if the resources were available to expand production. That should improve in time as millions of unemployed Americans are incentivized to fill a flood of job openings. Even so, it will take some time for the bottlenecks in the system to be worked out. Until that is achieved, upward pressure on prices will likely continue.
Media mentions:
Our experts were recently quoted on this topic in the following publications: