Does the recent weakening economic data suggest that the expansion is at risk?
Growth in the United States may have already peaked, but the economic outlook remains solidly expansionary.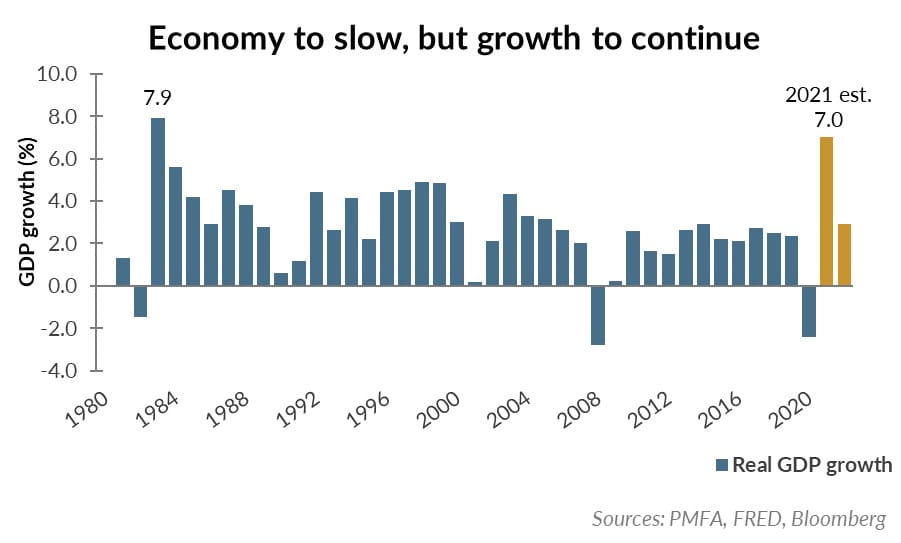 Earlier this week, the National Bureau of Economic Research, the unofficial scorekeeper for U.S. business cycles, officially declared what has been widely believed for over a year: that last year's recession ended shortly after it began — in May 2020. Not only was it the most rapid decline ever, but at just two months in length, it's officially the shortest U.S. recession on record.
On the back of massive fiscal and monetary stimulus, the development and distribution of multiple COVID-19 vaccines, and pent-up demand that was unleashed as restrictions were lifted, the U.S. economy is now projected to reach its strongest calendar year growth since 1983. Those tailwinds are starting to fade though, and growth is expected to decelerate over the latter half of the year, while continuing to expand at an above-trend pace in 2022.
It's important to differentiate between a mid-cycle growth slowdown and recession. Most recoveries begin with a rapid surge off the bottom that ultimately fades before the economy settles into a sustainable pace of growth. As illustrated above, that appears to be what is now underway.
The threat of a widespread outbreak of a new COVID-19 strain can't be dismissed, but a return to the degree of lockdowns that shut down the economy virtually overnight in early 2020 seems highly unlikely. With monetary policy accommodation expected to be reversed only gradually over the next few years and a predisposition for continued fiscal spending, the economic outlook remains generally positive. The current slowdown was to be expected, but the expansion has plenty of runway left.