How often should I rebalance my portfolio?
A disciplined rebalancing strategy can improve portfolio return but don't overdo it.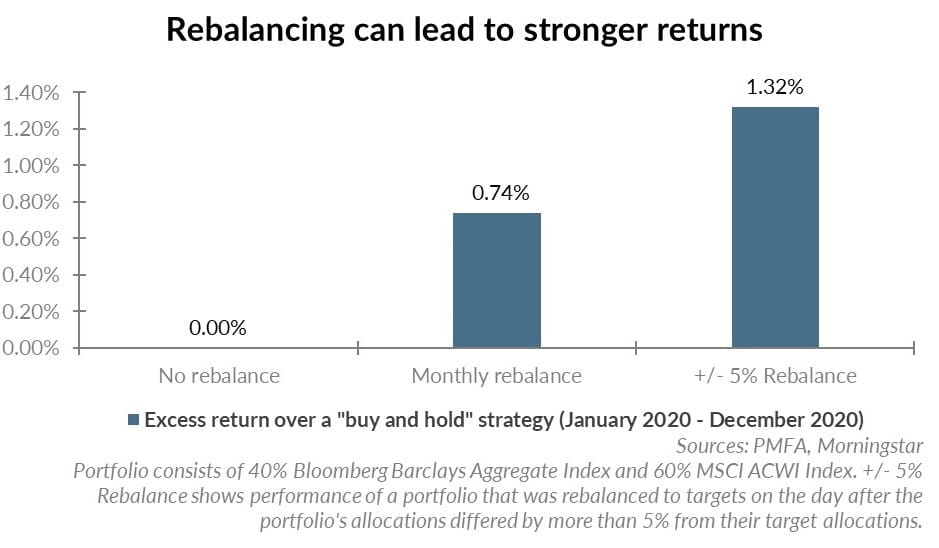 Rebalancing portfolio allocations may seem relatively insignificant compared to other investment decisions around asset allocation and manager selection. However, a disciplined rebalancing strategy can notably enhance portfolio returns, particularly during more volatile market periods. Many studies over time have reinforced the performance benefits of opportunistic rebalancing compared to a "buy, hold, and never rebalance" strategy. Using broad market indexes as proxies for major asset classes, our analysis indicates that was the case again during the volatile markets of 2020.
Over the course of the year, a monthly rebalance to target allocations would have enhanced portfolio results by about three-quarters of a percent. Making less frequent but more significant rebalancing trades, when actual allocations deviated by 5% from their targets, yielded an even better result, adding more than 1.3% to theoretical portfolio's return for the year. (Note that this analysis doesn't consider the impact of taxes and transaction costs, which would vary materially across portfolios but would also typically favor less frequent trading.)
Disciplined rebalancing reinforces a "buy-low, sell-high" strategy, as asset classes that have performed relatively well are trimmed to fund investments in areas that have lagged. Although the concept of rebalancing is simple, the value is real. As in prior periods, the experience of 2020 and the results of our analysis bear that out again.