Is the recent uptick in market volatility a cause for concern?
The strong equity rebound since March 2020 may be in the midst of a pause, but economic and policy conditions remain favorable for risk assets.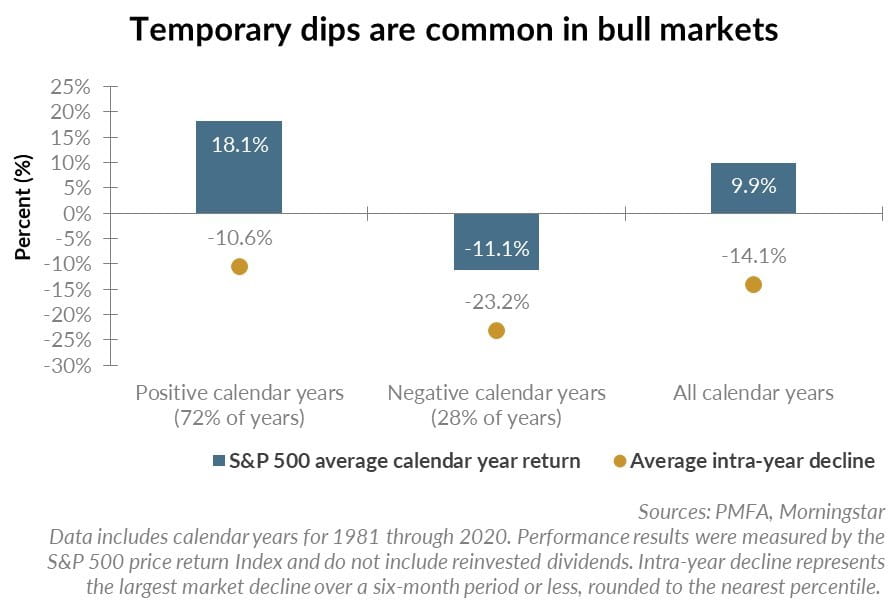 As much as investors might wish otherwise, periods of equity market volatility and temporary pullbacks are a natural and unavoidable part of the market cycle. Coming off of a particularly strong period for equities that began in March 2020, it shouldn't be surprising that they would take a breather at some point. By some measures, that "some point" appears to be here.
The desire to take the complexity of the market and boil it down to a simple explanation is normal. What has caused the market to pause — and even take some steps backward — in recent weeks? In truth, there's no single catalyst, but indications that Fed policymakers may be accelerating bond-purchase tapering and rate hikes, the growing sense that economic growth may have peaked in the United States, and the emergence of the COVID-19 Delta variant have all contributed to the shift in sentiment. The result has been a temporary step back for equities, most notably in cyclical sectors, value stocks, and small caps.
Still, the increase in volatility shouldn't be alarming and is best viewed in perspective. Over the last 40 years, the S&P 500 has posted positive calendar-year returns nearly three-quarters of the time. Even in those positive years, a temporary market correction is commonplace, with the average pullback topping 10%. Conversely, bear markets, defined as a decline of 20% or more, are much less common and are typically associated with recessions.
The bottom line: The recent downdraft in equities isn't unusual within the context of a bull market and a slowing (but growing) economy. If the economy settles into a sustainable growth pace and continues to expand as expected, risk assets should benefit, and could particularly support cyclical sectors, value-oriented strategies, and small cap stocks.