The ISM Manufacturing Index eases to 60.6 in June
Although manufacturing in the United States continues to expand rapidly, challenges related to supply chains, rising input prices, and labor shortages represent growing risks for the industry. Read more.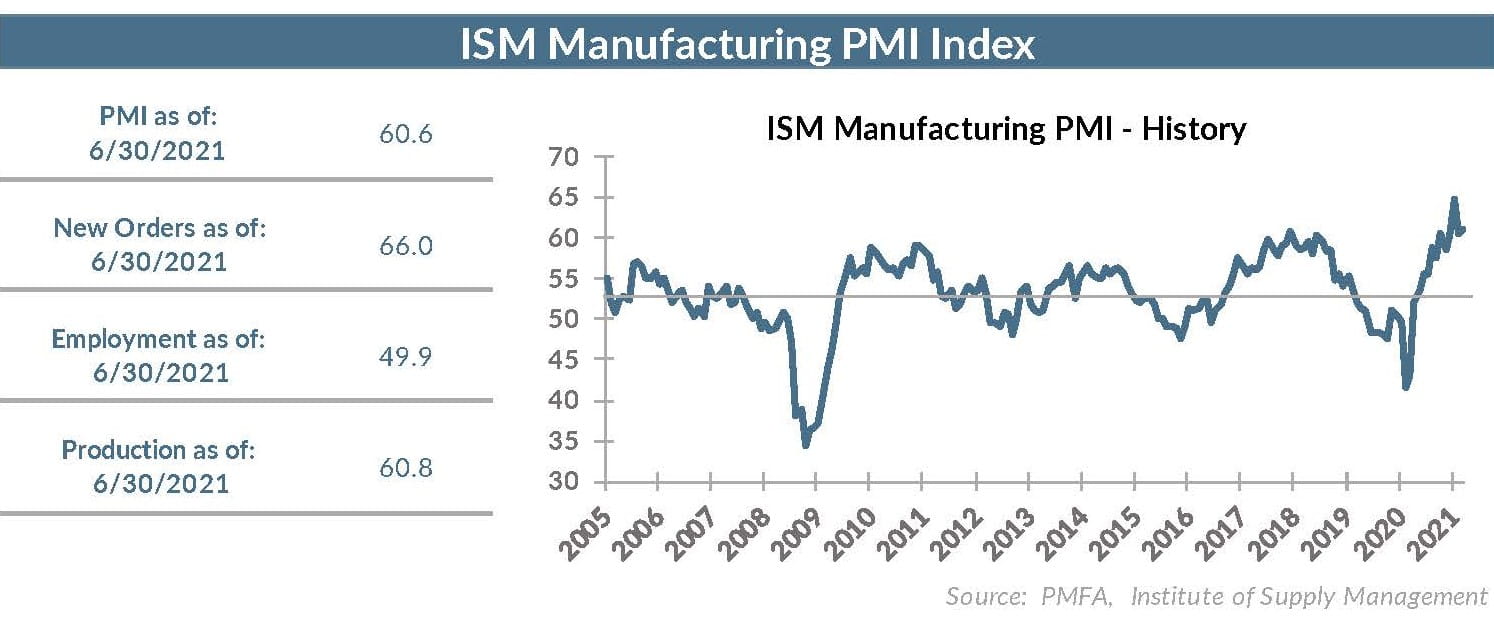 The ISM Manufacturing Index eased modestly to 60.6 from 61.2 in May, broadly consistent with solid expansion in the manufacturing sector for a 13th consecutive month.
The manufacturing sector continues to benefit from strong growth in consumer spending and business investment, even as it grapples with ongoing challenges in supply chains, material shortages, and tight labor markets. Demand has surged as restrictions are lifted across the country and consumers spend stimulus money and excess savings accumulated over the past year.
New orders continue to come in at a rapid clip, supporting a moderate increase in production to meet that demand.
Manufacturing employment growth has flattened — not because of a lack of need but because of the growing difficulty in finding workers. Enhanced unemployment benefits, ongoing dependent care challenges, and lingering health risks are all likely contributors to the surprisingly tight labor market. The result has been upward pressure on wages and increased turnover. Increasingly, the challenge for many employers may not be limited to finding new workers but keeping their current workforce intact.
Although there are some signs of inventories stabilizing, supplier deliveries remain slow and supply chain bottlenecks have yet to be resolved.
With demand still strong and constraints on production arising from both labor and material challenges, input costs are rising. Prices for finished goods will also continue to increase as a result, though it's also likely that manufacturers will absorb some portion of those rising costs, weighing on their profitability.
Although labor challenges are expected to subside in the coming months, limits on the supply of many raw materials will take longer to resolve. It will simply take time to ramp up to meet demand, let alone restock inventories throughout global supply chains. Rising prices should cool demand in time, contributing to that process.
The bottom line? Although consumer spending is likely to tilt more toward spending on services as the economic reopening continues, strong demand for goods should continue to support the manufacturing sector. Many producers will need to be resourceful to fill orders, maintain or grow their workforce, and navigate rising prices and tight markets for basic materials.
Media mention:
Our experts were recently quoted on this topic in the following publication: