How can tight business inventories be a source of growth for the economy in the coming years?
Rebuilding inventories across the economy should provide a boost to growth even if consumer demand fades in coming quarters.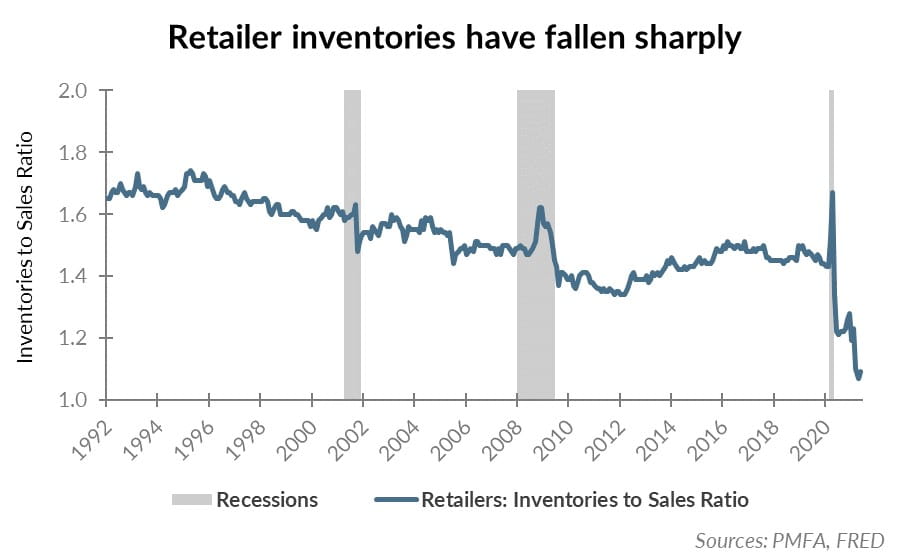 The combination of surging consumer demand for goods and severe bottlenecks across global supply chains has resulted in a sharp drawdown of inventories since the beginning of the year. Through the first six months, inventory depletion reduced annualized headline GDP growth by nearly 4%. Some industries have been hit harder than others, such as the domestic auto industry, where the impact of the global semiconductor chip shortage can't be missed. The available stock of about 169,000 units in June was a record low, which is down 70% from March 2020.
Perhaps the most telling gauge of that tightness is the inventories to sales ratio for retailers, which recently reached a record low. Unlike inventories alone, which measures the relative tightness of supply, this gauge also reflects the effect of the strong demand dynamic. The result is easily the tightest conditions since the U.S. Census Bureau started keeping records in 1992.
Although the global inventory restocking cycle has started, it's uneven and the process of fully replenishing shortages across the supply chain will be an extended one. Labor challenges are expected to subside to an extent in coming months, but raw material supply constraints may take longer to resolve. In the near term, tight inventories could impair growth, if consumers simply aren't able to find what they are looking for. However, over the intermediate term, the need to rebuild stockpiles should provide an additional tailwind for the economy.
The bottom line? As conditions continue to stabilize, the need to replenish supply chain stocks should provide an additional catalyst for the expansion, even if consumer demand returns to more normalized levels in the coming quarters. Just as inventory drawdowns have trimmed GDP growth over the past few quarters, its reversal should provide a boost further down the road.