What does a slowing manufacturing sector mean for the stock market?
Manufacturing sector growth has slowed in recent months and may continue to ease. However, equities typically perform well even after growth peaks.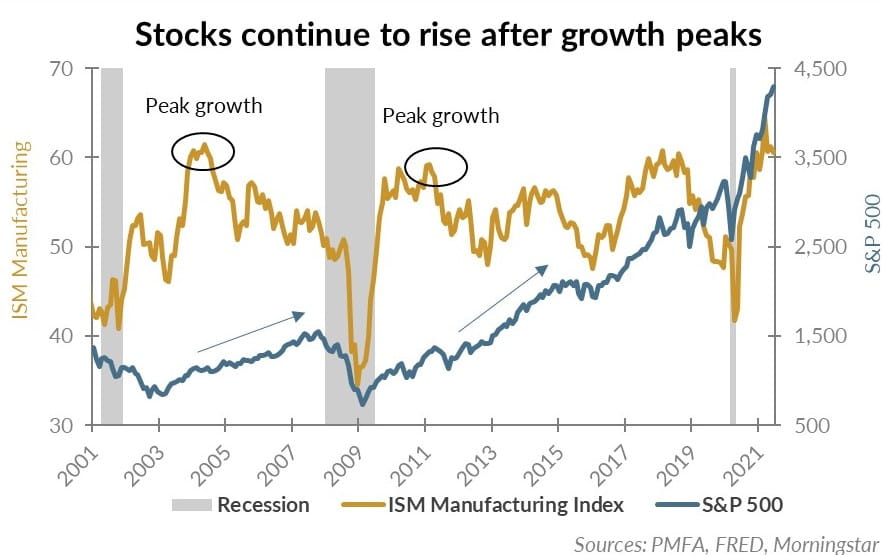 Robust consumer demand fueled by fiscal stimulus has been a powerful catalyst for the nation's factories following the COVID-19-induced recession. However, more recently, growth in the manufacturing sector has moderated amid supply chain bottlenecks and a shortage of labor.
As shown in the chart above, manufacturing growth peaked in March 2021, though notably, it remains well above 50 — consistent with the sector's solid expansion. However, a confluence of strong consumer demand, supply chain disruptions, and labor scarcity is starting to constrict activity. The question is whether or not stock market returns can remain positive while manufacturing growth — and likely the growth rate of the broad economy — is moderating.
Since 2001, periods following peak growth in the ISM Manufacturing Index were followed by strong U.S. equity performance, supported by an economy that continued to expand for several years. In the current cycle, the supply-demand imbalance created by goods shortages and higher input costs has flowed through to higher prices for various consumer goods and services. These higher prices aren't necessarily detrimental to corporate earnings growth as long as producers can pass along a majority of the price increases to consumers. Reports of robust earnings gains for Q2 strongly suggest that thus far, companies have been largely successful in doing so.
The bottom line? While the manufacturing sector and the economy as a whole may have reached a near-term peak in growth, both appear to have considerable runway for further expansion. Labor shortages and supply chain bottlenecks are near-term risks but ones that should resolve over time. While always susceptible to a temporary bout of volatility, stocks should be well positioned to outperform cash and high-quality bonds against such a backdrop over a multiyear time frame.