What does Fed tapering mean for the stock market?
While Fed tapering may create some short-term volatility, historically, equity markets continued to move higher.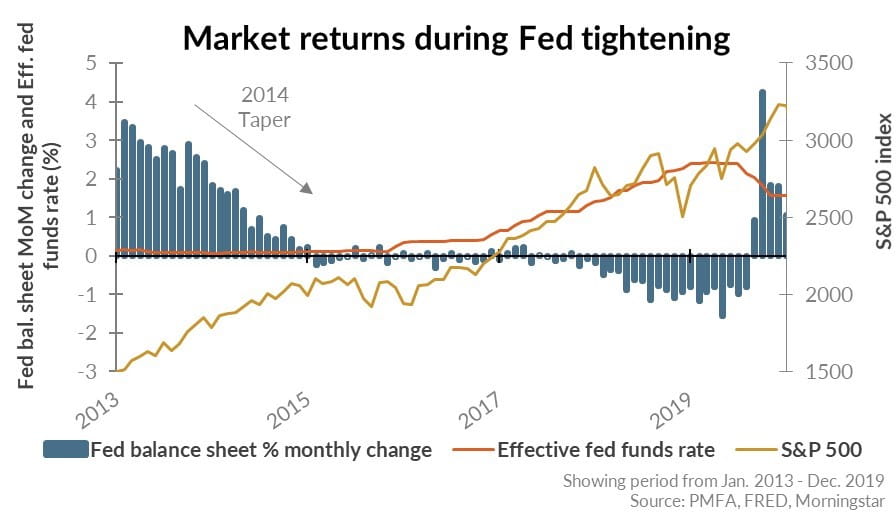 As we discuss in our accompanying piece, the Fed has begun to discuss tapering asset purchases in the coming months. Even after that change in direction, monetary policy would be far from restrictive. But how might the markets respond? A look at historical market performance during the last Fed tapering cycle may provide some insight on what to expect.
As illustrated in the chart above, the Federal Reserve began to slowly reduce its asset purchases in early 2014 and continued to taper purchases over the duration of the year. However, equity markets posted strong performance over the period, with the S&P 500 rising more than 11% for the year. The Fed's next step — its announcement of the first Fed funds rate hike in that tightening cycle — in December 2015 prompted a bout of equity volatility. That was followed by another when the Fed stopped reinvesting proceeds and allowed for a gradual reduction in its balance sheet in late 2018. Despite those temporary setbacks, the equity bull market continued.
So why did equities continue to advance despite the withdrawal of Fed stimulus? Ultimately, corporate earnings growth fueled by continued economic expansion are the primary drivers of equity market performance regardless of adjustments to monetary policy. Other factors certainly play a role as well, perhaps most notably fluctuating valuations — the expansion or contraction of Price/Earnings multiples. Broadly speaking though, a midcycle adjustment to Fed policy may create some temporary disruption but doesn't tend to have a lasting effect, particularly when that policy is still supportive.
The bottom line? A reduction in Fed accommodation may be a catalyst for short-term volatility, but against the backdrop of a growing economy shouldn't alone end the equity bull market.