What might a near-term shift in Fed policy mean?
As the economy continues to recover, there are growing indications that the Fed may begin tapering their asset purchases before year-end. Although an important step, that move wouldn't bring an end to accommodative policy.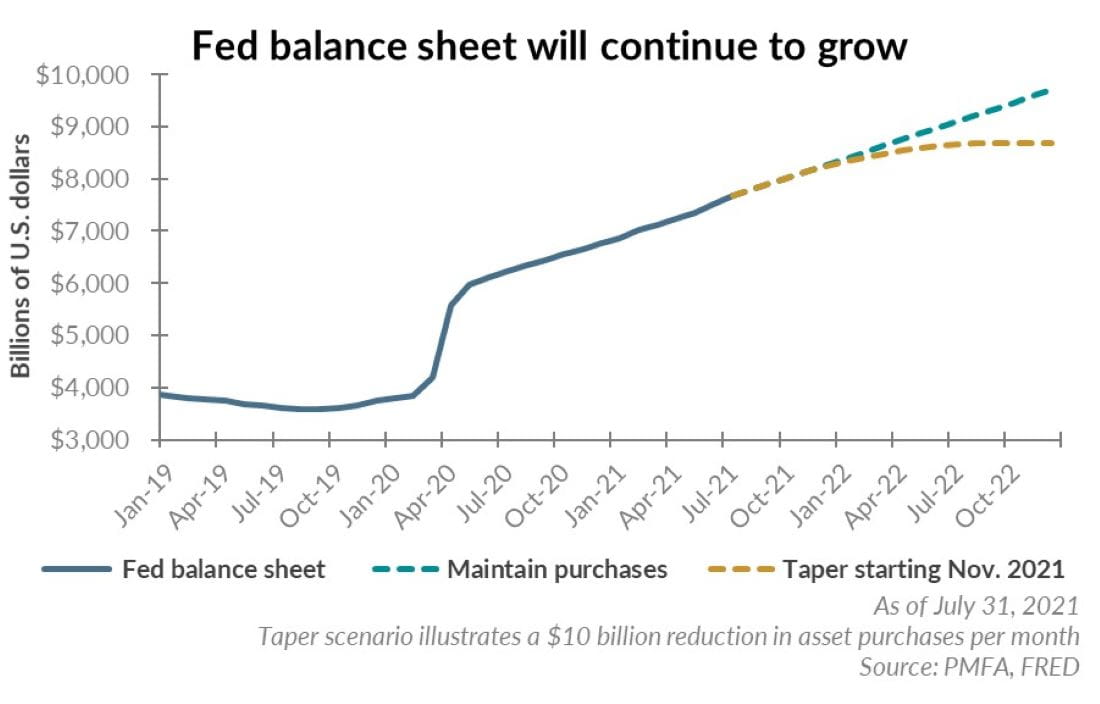 Given the recent surge of inflation and increasingly tight labor market conditions, policymakers within the Fed have turned their attention to its bond purchase program — a key component of their March 2020 policy moves to provide support for the flailing economy. As noted in the FOMC's recently released July meeting minutes, most Fed officials support trimming the pace of purchases, or tapering, before year-end.
It's important to note that although the change in direction is meaningful, the immediate impact on market liquidity and demand for Treasury and mortgage-backed debt will be incremental. The pace and duration of the plan is still being debated, but there appears to be broad agreement that the wind-down process shouldn't extend beyond one year. As illustrated above, that would mean that the Fed would continue to increase its balance sheet (albeit at a slower pace) and monetary policy will remain accommodative for some period of time. With the first short-term policy rate increase not expected until perhaps 2023, the Fed funds rate is projected to remain well below the central bank's neutral rate of about 2.5% for some time to come.
The important takeaway here is two-fold: The Fed appears to be rapidly approaching the point that economic data, particularly related to jobs and inflation, will justify a shift in tone in the coming months, but monetary policy will remain far from restrictive for some time. Given expectations that the Fed is unlikely to raise its benchmark policy rate in the near term and eventual rate increases will be gradual, easy policy should continue to support the expansion over the next few years. But how might the market react to the start of the tightening process? We discuss that in our accompanying piece.