Jobless claims came in higher than expected despite a tight job market
First-time jobless claims remain at the low end of their post-recession range as the labor market continues to recover from the COVID-19 shock to the economy last year.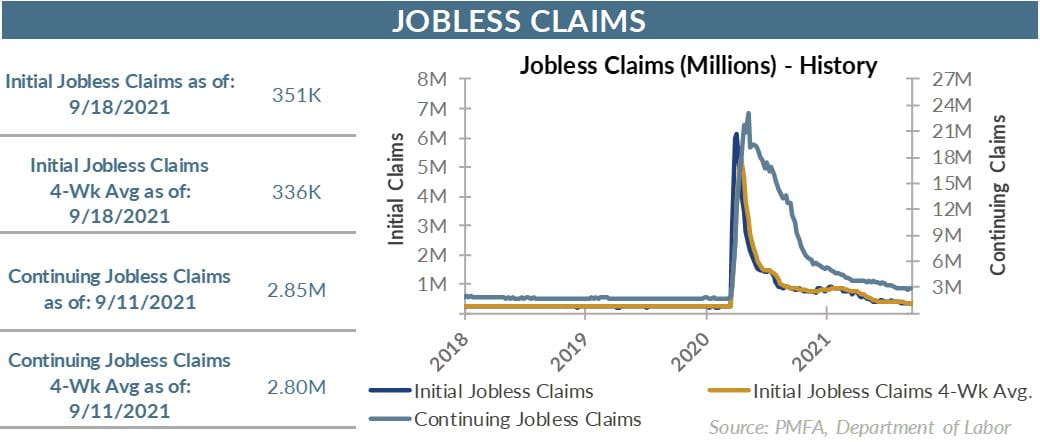 Initial jobless claims came in at 351,000 during the week ended September 18, well above expectations for 332,000, while also rising by 16,000 from a revised 335,000 for the preceding week.
Despite the uptick, first-time claims remain at the lower end of their range since the onset of the COVID-19 recession early last year. Conversely, they remain well above the exceptionally low level of claims during the period leading up to that, when weekly claims were routinely below 225,000.
Although some economic data has recently weakened, tight labor market conditions persist. A combination of factors has slowed progress in job creation, despite record-setting job openings, upward pressure on wages, and a competitive environment for both skilled and unskilled workers. Against that backdrop, a continued decline in layoffs shouldn't be a surprise so long as economic conditions remain favorable.
So where are the potential headwinds? Clearly, the greatest risk comes from the evolving COVID-19 virus and the potential for a slowdown in activity as a result of widespread behavioral changes or policy mandates. A marked slowdown in consumer demand could alleviate the demand for workers at least temporarily. Rising prices will also weigh on demand at the margins.
Not to be overlooked is the risk presented by limits on the supply side of the economy, whether it be in the form of supply chain bottlenecks that weigh on the availability of goods or the inability of employers to find workers. Many businesses remain short staffed, a notable challenge for many retailers and restaurants resulting in store hours being cut or the level of service suffering. Those limitations hurt sales at the individual business level, but the aggregated effects of such disruptions create the potential for a broader headwind to growth.
Labor market conditions will continue to weigh broadly into the Fed's decision around the timing and strategy for beginning to pare back its policy support for the economy. As Fed Chair Jay Powell noted yesterday, policymakers acknowledge that significant progress has been made, and a decision to begin to reduce its monthly bond purchases is likely close, with interest rate increases to follow as soon as 2022.
Ideally, further job creation would help to push the unemployment rate down from its current 5.2% closer to its half-century low of 3.5% in early 2020, but labor market conditions are tighter than the jobless rate alone would indicate. Assuming that growth remains above trend as expected, substantial further progress should be made in returning more sidelined workers to the ranks of the employed.
The bottom line? Tight labor market conditions are raising the stakes in the war for talent, and workers are benefiting in the form of higher wages. Rising wage pressures should incentivize more individuals to return to work but will also make employers think twice about cutting workers. Absent another shock to the economy, initial jobless claims should remain relatively low.
Media mention:
Our experts were recently quoted on this topic in the following publication: