Retail sales beat expectations, rising moderately in August
The August retail sales report might have been a nice surprise, but it comes with a notable asterisk. Retailers benefited from an unexpected pickup in sales, but much of that gain was explained by negative revisions to July sales data.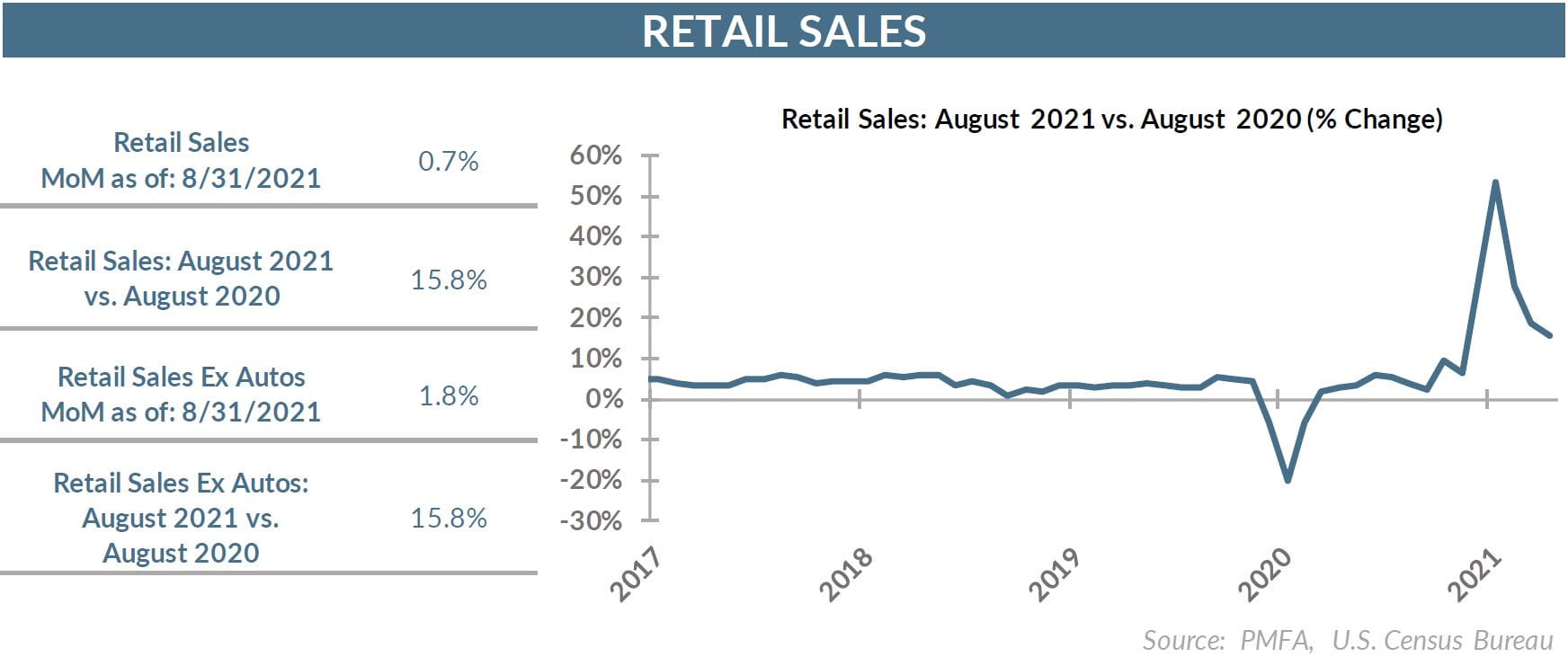 Retail sales rose moderately in August, rising by 0.7% compared to expectations of a 0.7% decline. Core retail sales, excluding automobile and gasoline sales, rose by a solid 2.0% from the previous month.
Although the monthly result was better than anticipated, much of that surprise can be attributed to the sharp downward adjustment to sales in the preceding month. The advance estimate had pegged the July sales decline at 1.1%, but that was knocked down by an additional 0.7% to reflect a drop of 1.8%.
Continued weakness in automobiles weighed on sales again in August, falling by 3.9% for the month on the heels of a 5.0% decline in July. Thin inventories are undoubtedly playing a role, as the dearth of computer chips is slowing auto production, making it harder for skinny dealer inventories to be replenished. Unit prices may be firm, but declining sales volume has more than offset price hikes.
Although retail results were positive for the month, the potential effects of the COVID-19 Delta variant surge were still apparent. Restaurant sales were flat in August, while grocery store sales increased by a solid 1.8%, suggesting that at least at the margins, consumers may be shifting back toward dining at home. That may reflect greater caution in avoiding unnecessary public exposure, but surging prices at restaurants are also undoubtedly playing a role.
On a brighter note, sales at general merchandise stores, including department stores, posted a solid gain. Department store sales have risen by nearly 30% in the past 12 months, a positive sign for a retail sector that's been under significant pressure in recent years as consumer shopping preferences have evolved. That doesn't change the long-term outlook or challenges that will persist for that retail sector.
Reflecting the other side of the change in shopping preferences, nonstore retail sales surged by 5.3% in August. Although the pace of growth for online retail has slowed as restrictions eased earlier this year and mobility increased, the sector continues to benefit from a significant secular tailwind of expanding online commerce. More consumers discovered the benefit of online shopping when lockdowns restricted their ability and health risk limited their desire to go to stores. Growth in online sales may slow, but the long-term outlook remains positive.
With the holiday shopping season approaching, Mastercard expects pent-up consumer demand to result in a 7.4% growth in sales this holiday season. The risk of goods shortages shouldn't be overlooked though, as global supply chain challenges are far from resolved. That could negatively impact unit sales, while emboldening retailers to raise prices. Consumers should plan ahead and be prepared to potentially have to look a little harder and pay a little more for the items they're looking for as the holiday season nears.
The bottom line? Retailers should continue to benefit from the relative financial strength of the consumer sector, although the impact of post-lockdown pent-up demand should continue to diminish. Conversely, it's unclear how quickly global supply chain bottlenecks and the supply side of the economy will normalize. The negative impact is clear for automobile retailers and could become more challenging for other parts of the retail sector as well.