Could the sizable buildup of corporate cash balances be a positive for the economy?
Since early last year, companies have piled up record amounts of cash. How they decide to use that cash could be meaningful to the economy and for investors.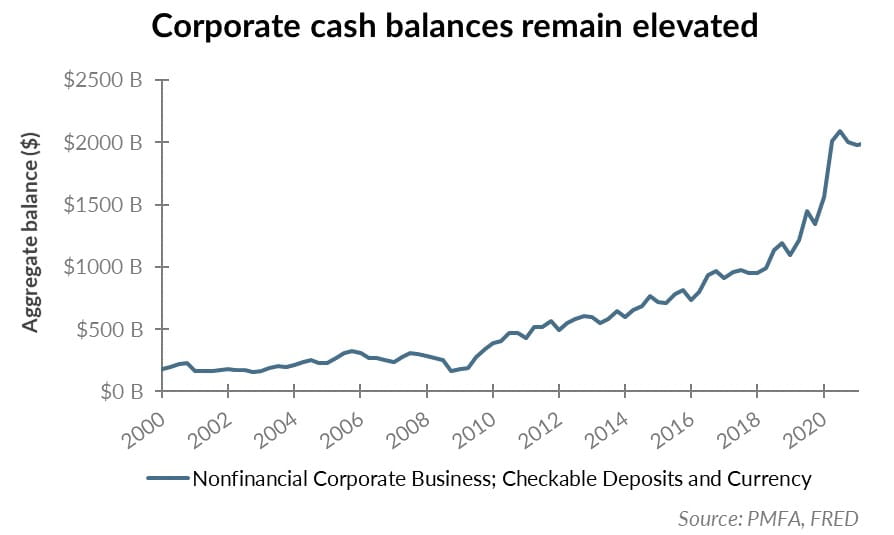 During the onset of the COVID-19 pandemic, many U.S. corporations sought to hoard cash through a combination of cost cutting, dividend reductions, the suspension of share buyback programs, and debt issuance. Amid such uncertainty, that cash buildup provided a buffer to slowing business activity and uncertainty about the economic fallout from the pandemic.
Since their trough last year, a strong rebound in corporate profits has further supported the unprecedented levels of cash on corporate balance sheets. As illustrated in the chart above, total cash and checking account balances for nonfinancial corporations remain near $2 trillion as of June 30 —a more than 25% increase from pre-pandemic levels and near the peak level late last year.
The constructive economic outlook, as conditions continue to normalize, would suggest that companies are likely to put this excess cash to work in the months ahead. Although wholesale inventories have recovered, retail inventories remain depressed as a result of strong demand growth, persistent supply chain issues, and shortages for certain goods. Companies are likely to spend a portion of their cash balances rebuilding their inventories as supply chain issues are resolved.
Additionally, corporations have already begun to ramp up capital expenditures and will likely continue to do so, as we discuss in our accompanying piece, particularly as they face continued challenges in hiring. As a result, business investment appears poised to pick up steam as a critical source of growth even if consumer demand slows.