How are U.S. companies putting their cash to work?
The large cash balances accumulated by corporate America are now being used — both to reward shareholders through larger dividends and stock buybacks and to enhance their profitability through business reinvestment.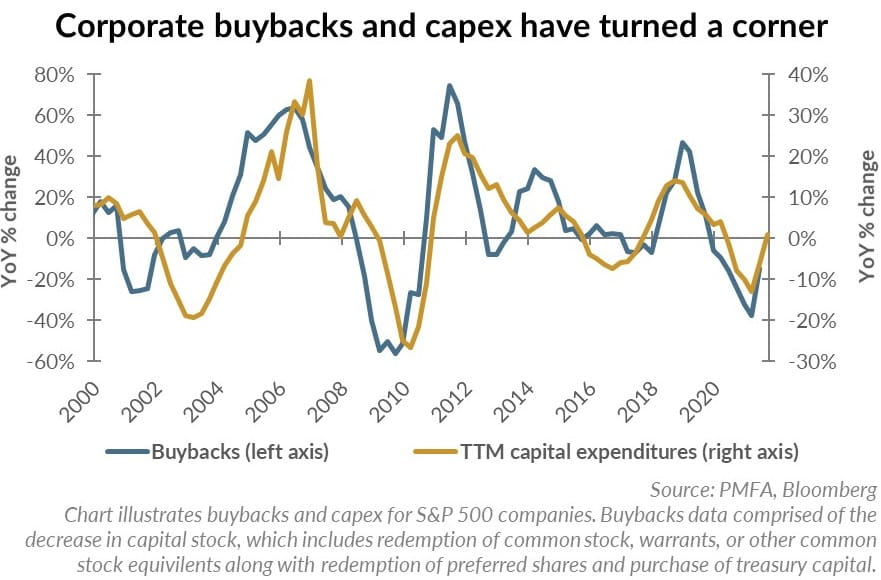 As we discuss in our accompanying piece, U.S. corporations are currently holding unprecedented amounts of cash on their balance sheets. The question is: How will companies spend these cash balances?
Three major ways that corporations can use their cash are for capital expenditure (capex), stock buybacks, and dividend payments. Through capex, corporations reinvest cash within the company to fund projects that are expected to expand capacity or improve productivity, thus enhancing future profitability. These investments in the business can be critical to the future success and growth prospects of the business.
Conversely, corporations can also use cash to reward current shareholders through purchasing company stock on the public market as a means to support the stock price and earnings per share by reducing the number of shares outstanding. Increasing dividend payouts can also help support a stock's price, making it more attractive to own, particularly for investors who value income.
As illustrated above, both the share buyback and capex cycles appear to be back on track since bottoming last year. That's good news for the economy and for corporate profits.
The bottom line? A rebound in capex spending should help to cushion the effect of a slowdown in consumer spending growth, while a resurgence in share buybacks and stronger dividend payouts are positives for equity investors.