How long will resurgent inflation pressures last?
Despite a sizable uptick in consumer prices this year, inflation expectations for 2023 have barely budged. For now, forecasts suggest that recent inflationary pressures may have already peaked and should fade over the next few years.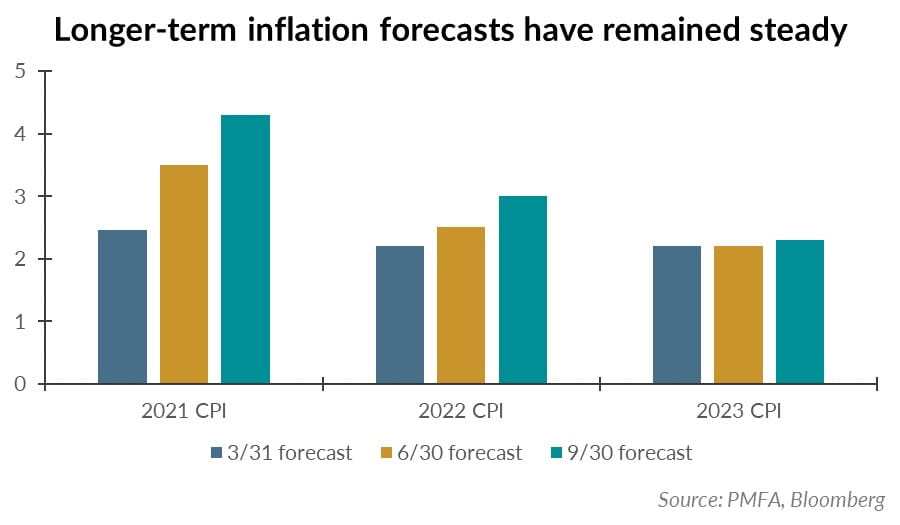 The consumer price index reached a new cyclical peak in September at nearly 5.4% and has exceeded 5% for four consecutive months — the longest such stretch since 1991. Ongoing supply chain issues and tight labor market conditions continue to push up costs and restrict supply, while demand remains strong.
As the chart illustrates, consensus inflation forecasts for 2021 have risen considerably over the past six months as recent price increases have outpaced expectations. Intermediate-term forecasts for 2022 and 2023 have also been raised, albeit to a much lesser degree. Still, inflation above 2% would mark a departure from the sub-2% inflation that accompanied the sluggish growth in the years following the global financial crisis. To a point, the Fed would embrace moderately higher inflation for some period given the extended period of inflation below the central bank's 2% target but only to a point.
The recent inflation spike has been more persistent than many, including Fed policymakers, had projected just a few months ago. The Fed's characterization of the current inflation surge as "transitory" still leaves plenty of wiggle room for debate. However, their recently revised forecasts indicate that the central bank now anticipates that inflation will run a bit higher for a bit longer than had been baked into its prior forecasts. Private sector economists agree. As a result, the Fed's path to policy normalization has been accelerated, with the first interest rate hike being pulled forward into 2022.
What hasn't changed? As noted in our accompanying piece, the underlying inflationary catalysts are still expected to fade over time as labor imbalances and supply chain conditions normalize. How long will that normalization process take? That's the question.