Jobless claims came in below 300,000 for the second week in a row
A new post-recession low for jobless claims last week indicates that labor market conditions remain tight. That's unlikely to change anytime soon.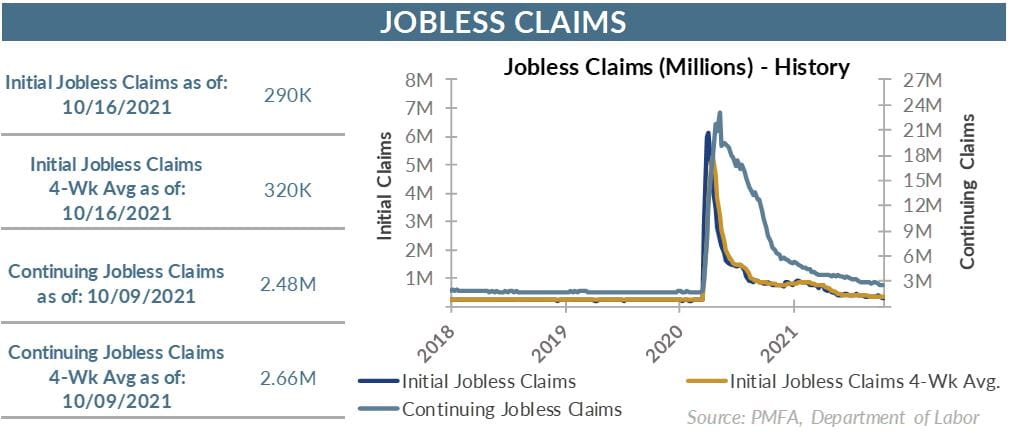 Initial jobless claims came in at 290,000 last week, below the consensus forecast of 297,000, while dropping by 6,000 from last week's upwardly revised total.
Weekly claims remained below 300,000 for the second straight week and marked its lowest point since March 14, 2020, coinciding with the onset of COVID-19 and resulting shutdown of much of the country, which broadsided the U.S. economy.
While jobless claims have continued to trend lower, they remain well above pre-pandemic levels when weekly claims had hovered around 225,000 for a few years prior to March 2020. But that was in the final years of a historically long economic expansion; jobless claims had been above 300,000 for the first five years of that expansion that began in 2009. Unemployment also remains well above the last cyclical low of 3.5%, but that was an unusually low rate that hadn't been seen in the United States in a half century.
There's still room for further improvement in job market conditions, but the current level of unemployment and the low level of layoffs are more consistent with conditions in the middle of the last cycle. The pace of improvement in employment conditions over the past year is noteworthy, easily outpacing the recovery in the aftermath of the global financial crisis.
The downside is that the labor market is tighter than the unemployment rate alone would indicate. Job openings remain exceptionally high, as is voluntary turnover. Many employers are desperate to hire and are paying up to attract workers. Growing upward pressure on broad measures of wages is unambiguous, and worker expectations are being reset accordingly.
One key problem is that 3 million Americans have left the workforce since early 2020, exacerbating efforts to fill open positions. It's not just a skills mismatch, hesitation due to health risks, or the lack of childcare, although all play a role. The onset of the pandemic likely accelerated retirement for many Americans that were already close. Others, predominantly women, have left the workforce in response to the lack of affordable care for children or ailing adults.
How many of those 3 million workers that left the labor force might return? That's an unanswerable question, although some could be enticed by surging wages or the ability for a more flexible work arrangement as employers become more creative in finding ways to meet their needs.
In the meantime, the sharp slowdown in job creation reflects the current tightness of labor market conditions — a deficit in the availability of workers to meet the demands of an economy that continues to recover from last year's disruption, not a lack of job openings or hiring needs.
The bottom line? Hiring demands remain robust, and the short supply of potential workers should make employers think twice about cutting payrolls. Solid growth should continue to fuel strong labor market conditions, maintain upward pressure on wages, and limit layoffs even if the pace of near-term economic growth slows as expected.
Media mention:
Our experts were recently quoted on this topic in the following publication: