Nonfarm payrolls fell short of expectations in September
Job creation disappointed in September. Employers are still hiring, but tight conditions and the disruptive effects of the COVID-19 pandemic remain apparent.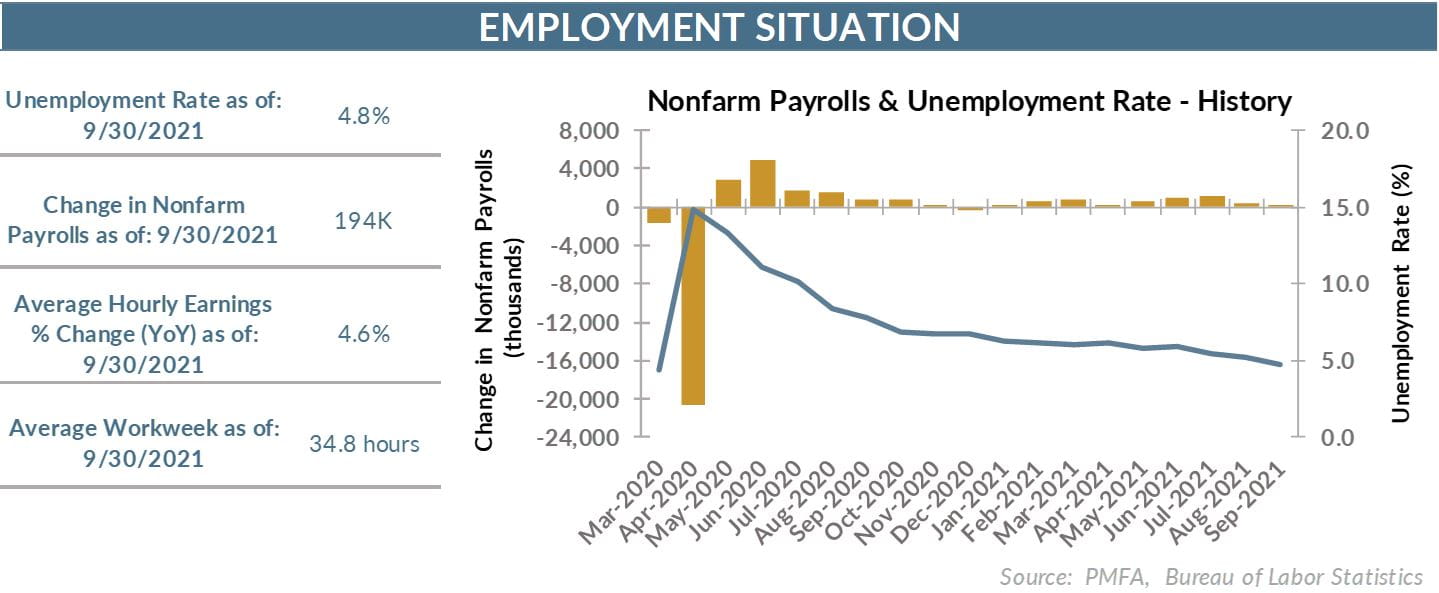 Nonfarm payrolls rose by just 194,000 in September, falling well short of expectations for a 500,000 increase. Although revisions to the preceding two months lifted payrolls by another 169,000, the aggregate gain stayed well below forecasts.
The unemployment rate fell sharply from 5.2% to 4.8% in September to its lowest level since March 2020, immediately before the full impact of the COVID-19 shutdown of the economy was felt. The number of unemployed individuals declined by nearly 700,000, although that drop also reflects a decline in labor force participation. Although job creation was positive, the effect of individuals dropping out of the labor market is readily apparent.
The result? The total headcount for the labor force remains about 3 million below its pre-pandemic level — a sharp reduction in available workers to fill the growing need for workers across the economy.
One notable headwind to job creation was in education, where 160,000 jobs were lost at the local and state level, reflecting the effects of COVID-19 risk, changing enrollment patterns and remote learning, and slower hiring.
More broadly, private payroll growth was positive (+317,000) but little changed compared to August (+332,000). One relatively bright note came in construction; the surge in job creation therein reflects strong demand particularly in housing, where there simply aren't enough homes available to meet buyer demand.
Service sector employment conditions were mixed. Job creation accelerated in both retail and leisure and hospitality — two sectors that were hit especially hard over the past 18 months. Although demand for workers is high and total employment in the sectors remain below their pre-pandemic peak, employers continue to struggle to fill an abundance of job openings.
The competition for workers is also readily apparent in wage data. Average hourly wages rose by 0.6% in September and 4.6% over the past year — a sizable increase, particularly given how recent job creation has been skewed to lower-wage positions. Upward pressure on wages is almost certain to persist for some time — a detriment to employers and another source of inflation pressure, but also a factor that should support consumer spending in the coming months.
These developments come at a critical time as the Fed weigh inflation risk and labor market conditions heavily while sketching out their plans for beginning to step back from the policies put in place to support the economy last year.
Weaker-than-expected job creation isn't likely to deter the Fed from beginning to pare its ongoing bond purchases but will influence how aggressively they move. Step one will be for the Fed to curtail their bond purchases, but how quickly will they move to eliminate them altogether and transition to the next step in raising short-term interest rates? This remains an open question.
The bottom line? Labor demand remains robust, but a combination of factors continues to limit stronger job creation. It appears increasingly unlikely that those conditions will change meaningfully in the near term, despite indications that the pace of the expansion is slowing.
Media mentions:
Our experts were recently quoted on this topic in the following publications: