Retail sales unexpectedly increased last month, although the strength of the gain reflects not only consumer appetite to spend but the reality of rising prices. That's not likely to change in the near term.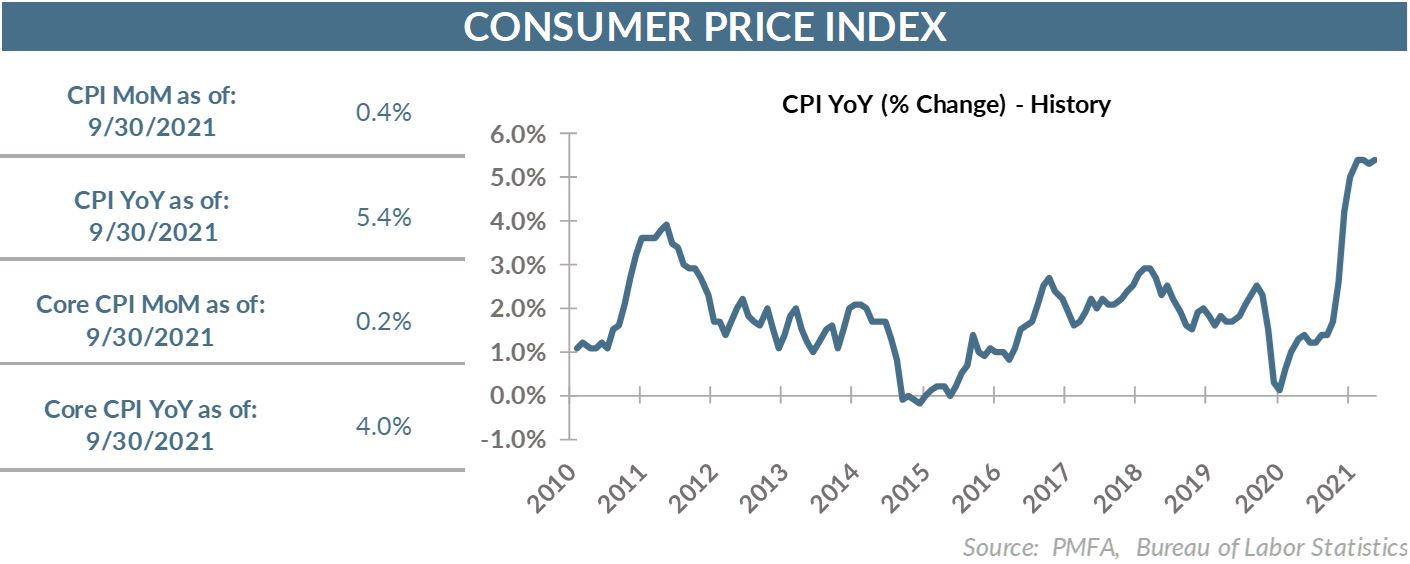 Retail sales increased in September by 0.7% — a surprisingly positive result compared to forecasts for an outright decline for the month. Topping off that positive monthly outcome was a modest upside revision that added 0.2% to the August increase. Over the past year, retail sales have surged by nearly 14%.
Broadly, a second consecutive month of unexpectedly strong gains for retailers suggest that consumers are still spending at a brisk pace, despite the resurgence in COVID-19 cases in recent months.
Of course, the top-line result matters, but the underlying components matter as well. Core retail sales, which excludes gasoline and vehicles, also rose by 0.7%. Gains were solid across a broad range of retail sectors. Gas stations benefited from a 1.8% increase in sales but at the expense of customers who felt the pinch of higher gas prices.
Nonstore retailers, which most notably encompasses online commerce, increased by 0.6% in September. The month-to-month increase for online retail was a comparatively weak gain compared to the 5.7% surge in August as COVID-19 fears kept more consumers at home shopping online instead of hitting brick-and-mortar stores. This shows the strength of a sector that benefited more than any other by the ongoing change in consumer shopping preferences.
Restaurants saw a modest 0.3% increase in sales for the month. The industry continues to feel the effects of the pandemic and concerns about health risk, but those concerns may be waning. Recent surveys indicate that nearly half of consumers are still not dining in person at restaurants as often as they'd like, but that sentiment is nearing pre-pandemic levels.
There is a cautionary note underlying retail sales gains given the notable effect of higher prices. The consumer price index has been above 5% for five consecutive months, lifting not only prices, but retail sales in nominal terms. In inflation-adjusted terms, consumer spending growth has faltered in recent months. The retail sales numbers show that households are spending more, but an uncomfortable part of the increase is directly tied to rising prices rather than real consumption growth, a fact that will weigh on third quarter GDP.
Looking ahead, the story appears somewhat mixed. Consumer spending on services could continue to bounce back if COVID-19 cases continue their recent decline. Conversely, persistent supply chain bottlenecks are showing little signs of improvement in the near term, raising the possibility that already-limited inventories for many goods could become more strained.
As the holiday shopping season approaches, unusually thin retail inventories could present a challenge to both retailers and shoppers. If that holds true, consumers should be prepared for the potential that prices could be firmer, Black Friday deals could be less attractive, and finding the perfect gift could be more difficult.
The bottom line? The slowdown in the economy still appears to be just that: a slowdown from an unsustainable pace of spending fueled by the massive infusion dumping of stimulative cash into the economy earlier this year. Consumers are still spending, but the impact of rising prices shouldn't be overlooked.