What are the key drivers of surging inflation in the United States?
While the consumer price index rose sharply over the last several months, prices are expected to gradually stabilize as pandemic-driven imbalances in the economy fade.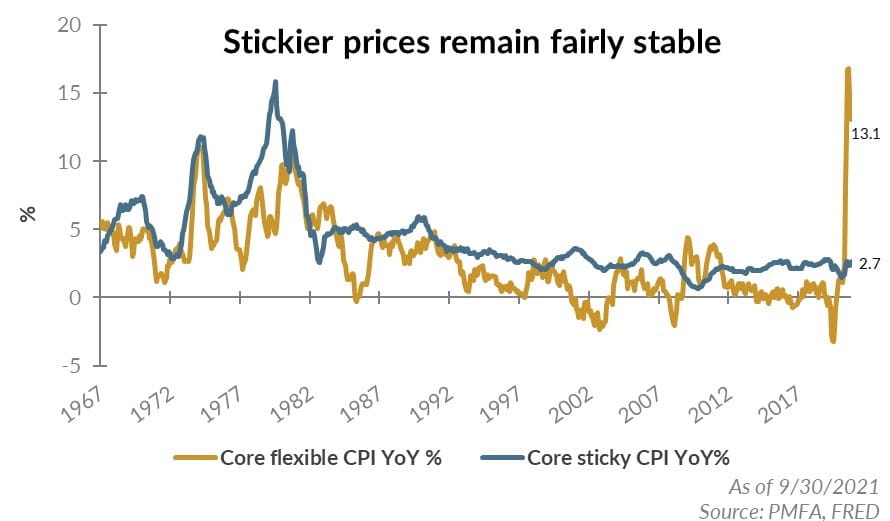 For the first time in many years, inflation has recently emerged as a notable concern, not only for consumers but for investors as well. A brief surge in prices can be uncomfortable but isn't necessarily worrisome. Conversely, an extended period of higher inflation would present a greater risk to household purchasing power and affect expectations for future capital market returns. It could also be a catalyst for a bout of market volatility as investors adjust to those evolving expectations. How significant is that risk today? A look underneath the surface may provide some insight into the staying power of upward momentum in consumer prices.
As illustrated in the chart above, the recent surge in prices has been largely concentrated in "flexible" goods and services, for which prices tend to be more volatile. The recent outsized increases are largely concentrated in sectors associated with the economic reopening, including automobiles, airfares, lodging, and apparel. Core flexible CPI reached a historic 16.8% increase in July but has since rolled over, declining to 13.1% year-over-year in September. While still quite high, this is suggestive of a potential peak.
Conversely, prices of "stickier" goods and services, such as rents, recreation expenses, and medical service costs, have remained comparatively stable but may still be vulnerable. For example, the impact of higher home prices always shows up with a lag in the CPI. Stronger home prices in 2021 will likely ripple through gradually and lift shelter costs into 2022. A simultaneous easing in price pressures in flexible goods and services should help to mitigate the impact though.
The bottom line? Higher inflation is likely to be with us for a while, but there are signs that the pace of price increases could be peaking.