How does pending fiscal spending legislation in Washington, D.C. measure up versus COVID-19-related fiscal spending?
While the Infrastructure and Build Back Better bills before Congress are substantial, they fall well short of the fiscal stimulus pumped into the economy since March 2020.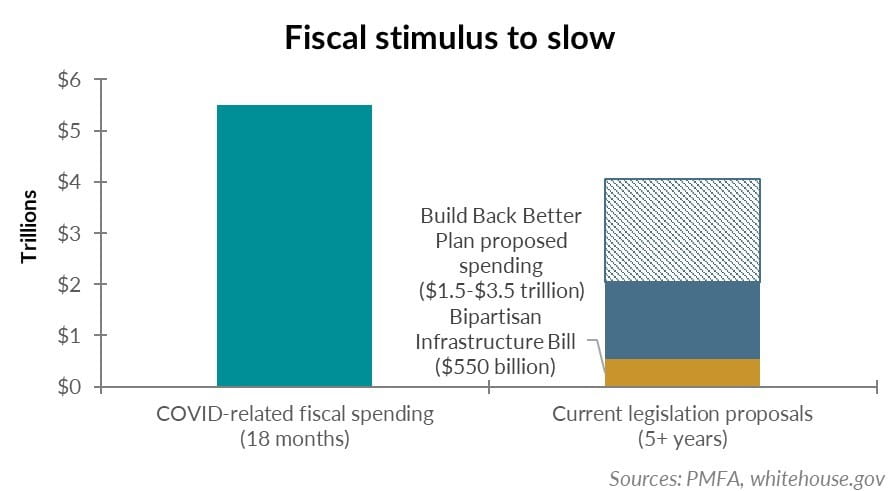 Over the past several months, Congress has been working to finalize two new spending proposals introduced by the Biden administration. The first bill, the bipartisan Infrastructure Investment and Jobs Act, passed by the Senate in August, directs $550 billion in new spending to modernize roads, bridges, and transit systems as well as expanding broadband access and utilities. The second piece of legislation, the Build Back Better Act, is targeted at expanding education, healthcare, child care, and climate-related investments. That bill's original $3.5 trillion price tag has been slashed, with current spending estimates now below $2 trillion, which will almost certainly be accompanied by tax increases on corporations and high-income individuals. While the combined cost of these bills is significant, the question remains: How do the new proposals stack up to COVID-related spending over the past 18 months?
As illustrated in the chart above, since the onset of the COVID-19 pandemic in the U.S., nearly $5.5 trillion of fiscal stimulus was pumped into the economy by the federal government. By comparison, the two current spending proposals may end up being less than half of that. Not only are the current proposals smaller, but they're expected to be deployed over a much longer period — potentially as long as seven to 10 years. Additionally, the expected inclusion of targeted tax increases may further temper the net economic benefit.
The bottom line? The current fiscal proposals on the table should provide some boost to economic growth over the coming years. Yet, notably, the impact will be much more limited in scope compared to the extraordinary COVID-19-related spending since early 2020. The good news? Reduced fiscal support shouldn't threaten the expansion.