How does the COVID-19 stock market decline and subsequent recovery compare to other periods?
The COVID-19 market selloff and rebound were both unusually rapid, standing in stark contrast to the market downturns during the last two equity bear markets.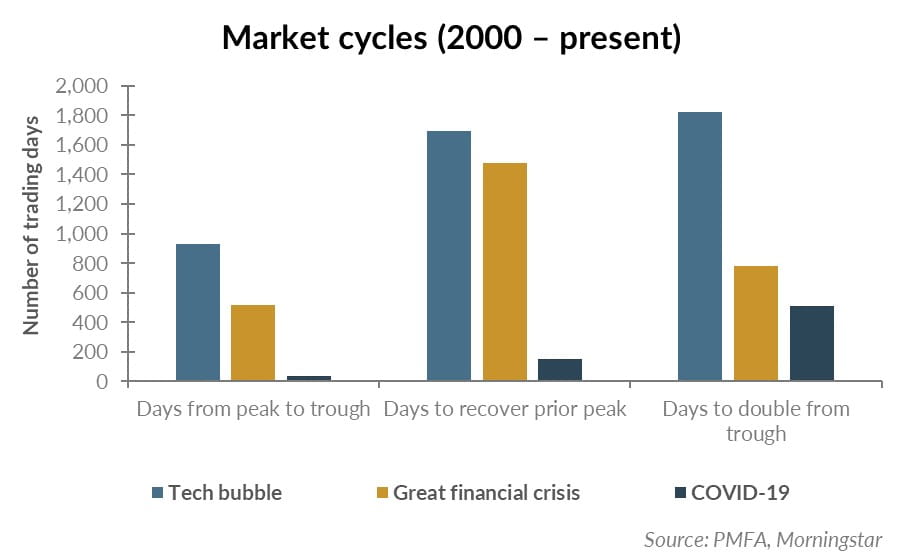 Last year's stock market plunge was one for the record books, although not for its magnitude; the bear market during the global financial crisis and the deflating of the tech bubble were much more severe. What made the bear market in early 2020 noteworthy was its speed, as the S&P 500 index plummeted over 30% in just 33 trading days — one of the fastest market declines on record. As shocking as that plunge was, the subsequent recovery was also surprising. The index fully recovered in just four months, returning to its pre-COVID-19 market high in July 2020. Recently, another symbolic threshold was reached as the S&P 500 has now more than doubled from its pandemic low. So how does the market's recent path compare to prior market corrections?
As illustrated above, the COVID-19 stock market swoon and its subsequent recovery were significantly shorter than either of the last two cycles. The market crash during the Great Financial Crisis extended over 17 months and slashed the S&P 500 by nearly 60%. Given the magnitude of the decline, the doubling of the index in about two years still left it short of its previous high. Recovering the total decline took over four years.
By comparison, the tech bubble reached its peak in early 2000 before bursting. After the initial selloff, the index continued to slide for over two and a half years, ultimately delivering a decline of nearly 50% for the S&P 500 Index before bottoming. When it finally turned the corner, the advance took over four years to return the index to pre-crash levels and almost five years to double from its cyclical low.
The bottom line? The strong equity market performance of since March 2020 was highly unusual, reflecting both the unique nature of the crisis that caused the decline and the more aggressive policy response than in preceding cycles.