How does the economic recovery compare to the last cycle?
Compared to the Great Financial Crisis, the current economic cycle has been much more condensed, both in the contraction and the recovery.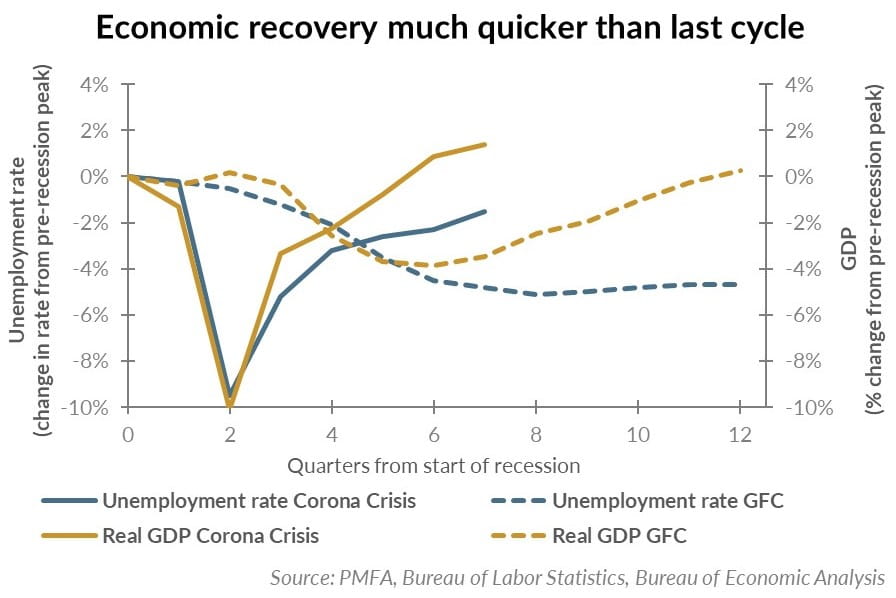 As shown in the chart above, the current economic cycle has unfolded much more quickly than during the Great Financial Crisis (GFC) or its aftermath. That recession extended for about 18 months, compared with a contraction that lasted only two months last year. Similarly, the unemployment rate peaked in November 2009 — nearly two years after the recession began. By comparison, we're now seven quarters into the current cycle, and GDP has already surpassed its pre-pandemic peak, with unemployment (now at 4.6%) also rapidly declining. In the post-GFC period, the jobless rate reached 4.6% in early 2017, the eighth year of the expansion! The relative speed of the current recovery is unusual.
Why the condensed cycle this time? First, the underlying cause of the recession matters; it wasn't the result of economic imbalances, but of a pandemic, resulting governmental restrictions, and consumer behavioral changes that led to a virtual shutdown. As conditions stabilized, spending activity bounced back quickly. On top of the natural pickup in spending, the fiscal stimulus that was dispersed since March 2020 easily dwarfed the fiscal support of the last cycle, providing a significant additional boost to consumer income and spending as the economy reopened.
The good news? The recovery in GDP and employment are well ahead of the pace in the second year of the previous cycle. The downside? Coupled with supply chain kinks and labor shortages, the robust recovery in demand has contributed to surging prices. Inflation pressure should ease over time as spending growth slows and the supply side of the economy gradually normalizes. When that will occur remains an open question, but both policymakers and many economists are pointing to 2022 as the likely time frame.