Inflation concerns persist as the consumer price index tops 6% in October
The growing risk of inflation has been perhaps the most notable economic story of 2021. October's CPI surge will do nothing to allay those concerns.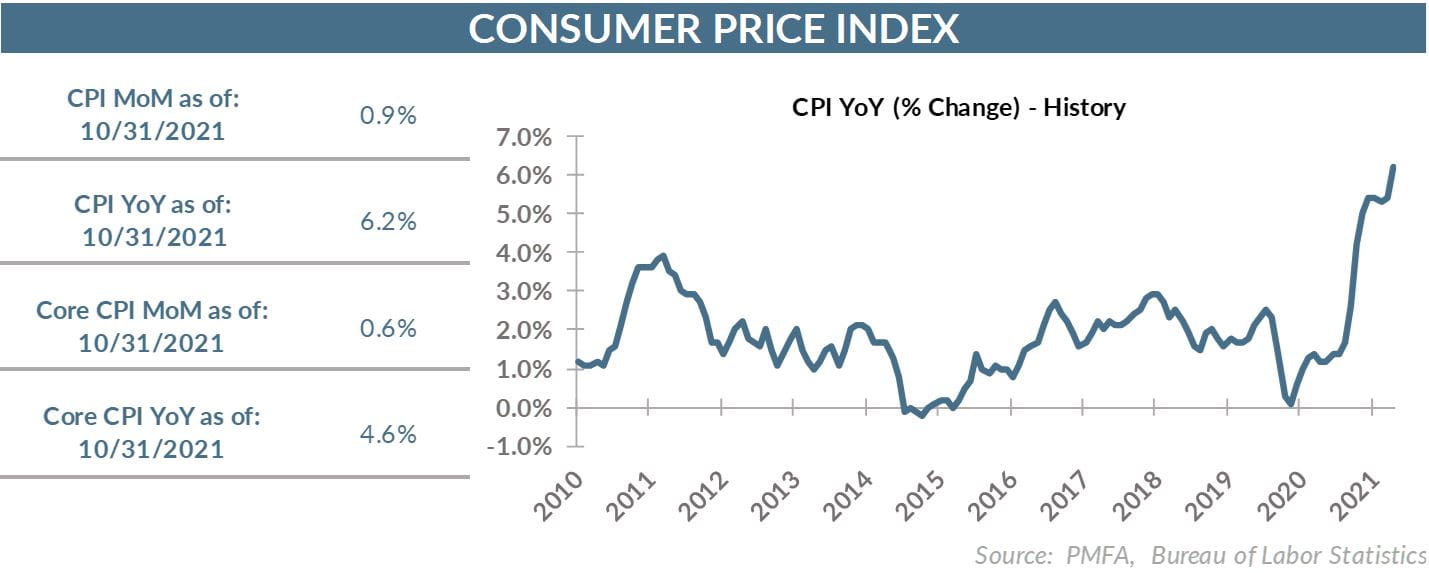 The consumer price index (CPI) rose by 0.9% in October, well above expectations for a 0.6% increase. That uptick matched the 0.9% increase in June as the largest single-month increase since June 2008. Core inflation, which excludes more volatile food and energy prices, also rose by 0.6% for the month.
The sharp October increases lifted the CPI to a 6.2% gain over the past year, with core prices rising by 4.6%. By either measure, the inflationary surge of the past year easily exceeded the Fed's 2% policy target, although policymakers had suggested a preference for inflation to run a bit higher to offset years of exceptionally low pressure on prices during the decade following the global financial crisis. It appears now that policymakers may be getting all that they had wished for and then some.
Headlining the increase was a 4.8% gain in energy costs in October, pushing the 12-month surge to 30%. Arguably, the outsized increase reflects the strong rebound in demand as the economy reopened and oil prices were lifted off of exceptionally low levels. Consumers are feeling the pinch at the pump, as the average price of a gallon of gas rose to $3.38 in October, its highest level since 2014. Gas prices are up nearly 50% over the past year and are about 75% higher than their cyclical low of $1.94 in April 2020 when demand had plummeted amid COVID-19-related lockdowns.
A 0.9% increase in food prices last month was an additional gut punch for consumers already feeling the effects of higher gas prices. Food prices rose by 5.3% over the past year, and there's no discernable advantage to dining at home or at restaurants. Meat prices in particular have soared by about 12% over the past year, a noteworthy development not only because it's a staple for most meals, but also because it represents about 25% of the food component of the index.
Rising shelter costs shouldn't be overlooked. Home prices have surged in the past year as strong demand was challenged by thin inventories across the country. The CPI doesn't pick up housing increases in real time though, which results in a lag in the substantial housing component to the index. That is now changing; the 0.5% monthly gains on the index components tied to housing costs lifted the 12-month change to above 3% for owners and 3.5% for renters, with larger increases in housing costs probable in the near term.
There are multiple underlying catalysts for the inflationary wave, with some possibly showing signs of easing and others far from being resolved. The strong rebound in consumer demand is part of the story, as low interest rates and over $5 trillion of fiscal stimulus since March 2020 put extra cash into household bank accounts. After the stark reality of being locked down, Americans wanted to spend — and spend they did. Declining personal consumption growth in the third quarter suggests that the buying binge for goods may be winding down. Higher prices are also likely playing a role in more restrained spending behavior.
The greater challenge is on the supply side of the economy, where global supply chain bottlenecks remain a major concern, and slim inventories are insufficient to meet demand. Higher prices have been the natural result.
Finally, tight labor market conditions have contributed to competition for skilled workers and rising wages. Many businesses have successfully passed along those higher labor costs to their customers to protect their profitability. Although job openings have fallen back from record levels just a few months ago, the demand for workers is still robust and upward pressure on wages is likely to continue for some time.
The bottom line? Inflation is still here. It still seems likely that the pace of increase for some goods should ease in the coming year as consumer demand growth ebbs and supply chains are unkinked. Still, a rapid descent to the Fed's 2% target remains highly unlikely. To use the Fed's preferred terminology, the question is "how transitory is transitory?" Increasingly, the broadening of price hikes across a growing range of goods and services suggests that "transitory" inflation may still be with us for longer than policymakers had anticipated.