Manufacturing sector faced challenges, but expanded again in October
Manufacturing activity expanded at a relatively brisk pace again in October. However, the impact of supply chain challenges and rising prices are also clear.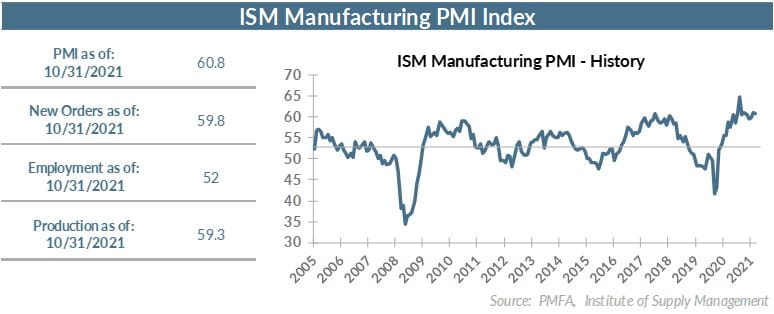 The October ISM Manufacturing Index fell slightly to 60.8%, compared to 61.1% in September, a result that was modestly better than economists' expectations.
The strong rebound in manufacturing over the past 17 months is a direct byproduct of the exceptional surge in consumer demand over that period. With abundant cash and limitations on travel and many in-person activities, consumers went all-in on shopping for goods instead.
The October survey results not only reflected the continued strength of quantitative measures of manufacturing activity, but also a persistent optimism on the part of producers despite the lingering challenges of the pandemic.
The good news? Demand remains quite strong, even if the pace of new orders is slowing. The bad news? It's still a challenge to meet that demand, and at least some of those difficulties show little sign of improvement in the near term.
Order backlogs are building up, as global supply chain logjams have slowed the pace of deliveries. From a lack of materials and worker shortages, to transportation headaches and higher prices, the challenges in the U.S. and across the globe are numerous.
Manufacturing employment increased moderately — not surprising, given strong demand and the need to ramp up production to meet it. Notably, fewer respondents indicated difficulty in filling open positions, although tight labor market conditions remain a challenge across the economy. Even so, any improvement in the hiring environment is welcome news.
The bottom line? Manufacturing activity is still expanding at a robust pace on the back of strong consumer demand. Nonetheless, limits on production and distribution from tight labor markets and growing material shortages create a risk to producers working hard to keep production lines humming, and rising prices could cool demand. The pandemic isn't over, and its disruptive effects on the manufacturing sector and global economy are still very apparent.