What would higher interest rates mean for equity markets?
Long-term bond yields are expected to continue to rise over the coming years, a development that could have meaningful implications for equity market performance.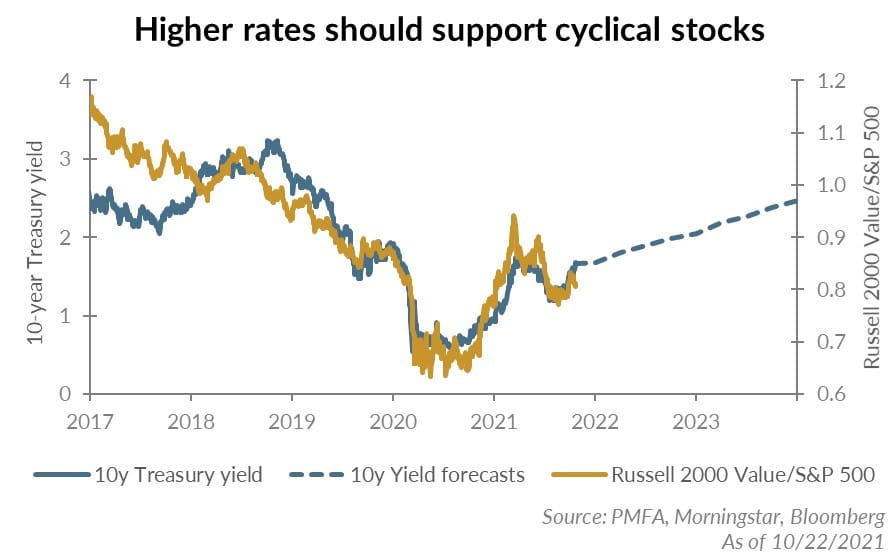 Long-term interest rates have risen notably over the past year, with the yield on 10-year Treasuries more than tripling from around 0.5% in the middle of 2020 to nearly 1.6% today. Yields fell sharply at the onset of the pandemic, due to extremely easy monetary policy and a flight to quality as investors fled stocks for the safety of bonds. Since then, however, rising inflation and a surprisingly strong growth rebound and outlook have pushed longer-term rates upward, though they remain low relative to history.
As shown in the chart above, economists expect interest rates to continue rising over the next few years. One reason for this is the Fed's widely anticipated announcement yesterday that it will soon begin to taper its bond purchases, reducing demand for treasuries and mortgages. Above-trend growth and higher inflation expectations going forward should also put some additional lift under interest rates as investors demand higher yields. While an expected decline in Treasury issuance may help to mitigate the near-term effects of Fed tapering, most economists believe yields will rise in 2022 and 2023. The question is, what would higher interest rates mean for equity markets?
As indicated in the chart above, the performance of small-cap cyclical stocks (illustrated by the Russell 2000 Value Index) relative to the broad large-cap equity market (illustrated by the S&P 500 index) is highly correlated to the direction of interest rates. A decline in the 10-year Treasury yield has been accompanied by the outperformance of more defensive blue-chip names, while rising yields have tended to coincide with outperformance of small-cap stocks and cyclical sectors of the economy. Bottom line, if yields continue to rise as economists expect, small-cap value stocks should continue to post strong relative performance.