Despite a soft November retail report, the consumer sector remains well supported
"Christmas comes early" may be a cliché, but this year, it was also a strategy for many shoppers.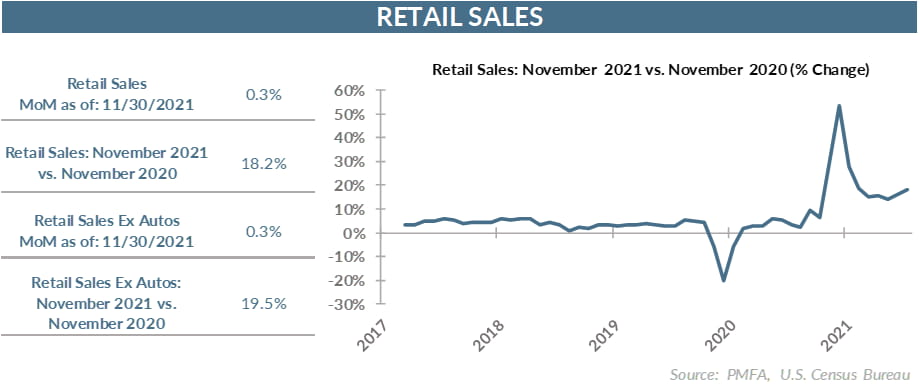 If you have to have the perfect gift and you're concerned that it might not be there by the time that the traditional holiday shopping season arrives, what do you do? Shop early and often. Based on the surprisingly soft November retail report on the heels of a strong October, that may be exactly what consumers did this year.
Retail sales rose by 0.3% in November — well short of expectations for a 0.8% increase. Core retail sales, which excludes automobile and gasoline, were up just 0.2% from the previous month.
The weak November retail results contrast sharply with what had been a surprisingly robust 1.8% gain in October. The November data may now tell the other side of the story.
It's possible that the recent emergence of the Omicron variant of COVID-19 may have a dampening effect on consumer behavior, but it's unlikely to have played any meaningful role in curtailing consumer spending last month. The 1% increase in restaurant sales suggests that consumers were comfortable dining out, which is a notable development for an industry that has been greatly impacted by the pandemic. If consumers were comfortable with the potential exposure risk of dining out, it's likely they would have been comfortable shopping in stores. Flat sales for nonstore retailers, which includes the critical online retail channel, also provides a clue.
The data suggests that consumers may have simply pulled much of their holiday shopping forward, getting a jump on the spending season. The risk of another outbreak curtailing activity closer to the holidays may have played a role, but fears of shortages and delayed shipping for online purchases likely played a significant role as well.
Where was the weakness? General merchandise store sales dipped by 1.2%, with department stores being particularly hard hit as sales declined 5.4% last month. Sales at electronics and appliance stores also dropped 4.6%. Softer holiday sales of consumer electronics sales would certainly be considered a red flag.
The result is weak at face value but is even more telling about consumer spending growth as it isn't adjusted for the effects of inflation. With consumer prices still rising at a brisk pace, the modest month-on-month increase appears even more anemic.
Softer-than-expected retail activity in the face of rising prices will weigh on Q4 growth forecasts but is unlikely to deter the Federal Reserve from moving forward with their plans to remove policy accommodation. Tight labor markets and inflation that's proving to be more persistent than the central bank had anticipated will remain central to their focus. All eyes are now on this afternoon's Fed announcement for clues about how aggressively they will move in the coming months.
The bottom line? Softer retail sales in November are disappointing, but the consumer sector remains well supported. The fact that the tepid monthly gain followed a surprisingly robust October increase suggests that consumers got out in front of the traditional rush to make sure that there were presents under the tree and fewer promises of gifts delivered after the beginning of the year.
Media mention:
Our experts were recently quoted on this topic in the following publication: