Following three consecutive years of strong returns for stocks, what should investors expect for stocks in 2022 and beyond?
Above average stock market returns won't persist indefinitely but continued economic growth and accommodative policy should still favor risk assets.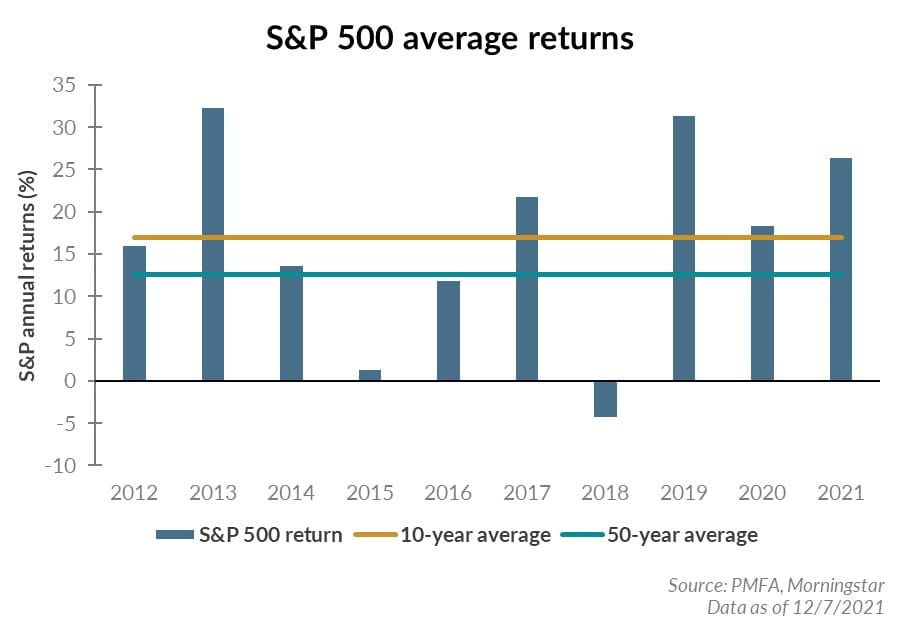 Fueled by accommodative monetary and fiscal stimulus, strong corporate earnings, and robust economic growth, U.S. equities have posted strong returns thus far in 2021, with the S&P 500 index rising over 26% year to date through December 7. If that advance holds, 2021 would add to the recent string of above-average years for equity markets.
As the chart illustrates, calendar-year returns for the S&P 500 index since 2019 topped both the S&P 500 Index's 50-year (12%) and 10-year (17%) average annualized returns. Compared to either, recent equity performance has been remarkably strong. That said, equities are not immune to periods of more muted performance even in the context of a bull market and economic expansion. Both 2015 and 2018 were recent examples of mid-cycle lulls in the midst of a record-breaking equity bull market.
Although growth is slowing, the economic outlook today still provides a generally favorable backdrop, which bodes well for the bull market in stocks and other risk assets to continue. But with both fiscal and monetary stimulus set to fade as growth recedes toward long-term trend, a period of market volatility wouldn't be surprising, particularly with equity valuations stretched. (In fact, we've seen some hints of that in recent weeks.) Periods of adjustment aren't unusual, particularly after strong, extended market advances. Still, there is a tremendous amount of cash on the sidelines waiting to be deployed, much of which could make its way into the markets, providing support on dips.
The bottom line? Continued growth and an accommodative Fed should remain supportive of risk assets, although market leadership could evolve over time and broad market returns could be tempered. Investors should remain mindful that volatility and periods of comparatively muted returns are normal – even in the context of a bull market.