Weekly jobless claims came in slightly above forecasts
A modest uptick in jobless claims doesn't change the robust labor market picture. Layoffs remain historically low as employers face intense competition for talent.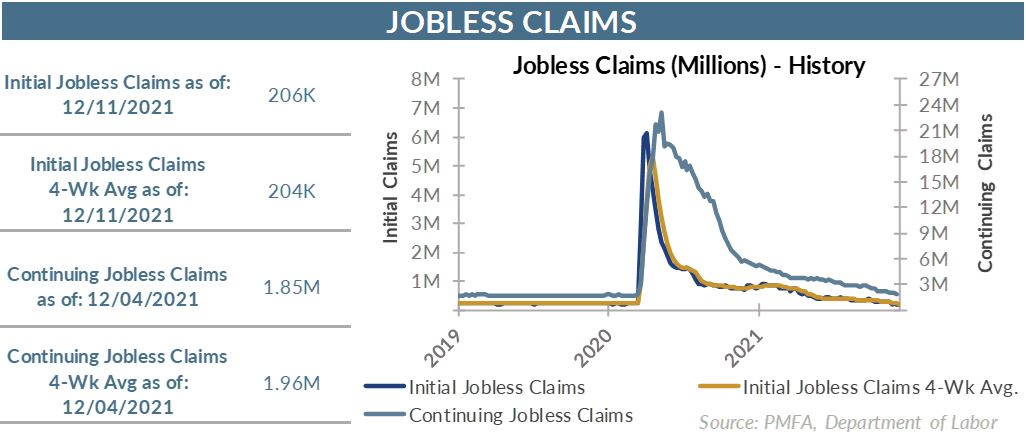 Initial jobless rose to 206,000 last week, moderately above the consensus forecast of 200,000. That reflected an increase of 18,000 from last week's revised total of 188,000 — the lowest weekly total since September 1969. The four-week moving average dropped by 16,000 to 203,750, declining to its lowest point since November 1969.
Leading up to the sudden onset of the recession in March 2020, jobless claims and the unemployment rate were near half-century lows, indicative of a labor market that had become increasingly tight at the end of a decade-long expansion. The extremely disruptive effects of the COVID-19 pandemic and policies adopted to contain the spread sidelined millions of American workers virtually overnight, creating a hole that by some measures the labor economy is still digging itself out of.
Still, jobless claims have steadily fallen over the course of the year, reflecting a return to tight labor market conditions, the speed of which surprised many, but one that mirrored the sharp economic rebound fueled by massive stimulus and robust consumer spending.
That's good news for American workers. The exceptional decline in the pace of filings since early in the year illustrates the growing reluctance of employers to lay off workers given brisk consumer demand and a tough hiring environment. The pool of workers has been diminished, with a large number of Americans having left the labor force since the onset of the pandemic that have yet to return.
Upward pressure on wages should entice some of those Americans to return to the workforce, but many will not. The surge in retirements is unlikely to be reversed, although it could result in a reduction in the flow of retirements in the near term. But a sustained period of higher wages also comes at a cost, as businesses look to pass along those higher labor costs to their customers. How long those challenges will persist remains to be seen, but it's not a problem that can or will be easily resolved.
Even as the Fed moves away from its characterization of inflation pressures as "transitory," tight labor market conditions and multidecade high readings on consumer prices are forcing the Fed's hand. Yesterday's announcement of a much more aggressive path toward tapering and interest rate hikes are a direct result of the growing concern about the confluence of tight labor market conditions with inflation pressures that are showing few signs of abating.
The bottom line? Ample job openings and a limited pool of available workers should keep a lid on layoffs in the near term, even if the overall pace of economic growth cools. Labor market conditions favor workers as the competition to attract and retain skilled labor remains fierce. Despite the uncertainty presented by the emergence of the latest COVID-19 variant, the economy remains well positioned to maintain a solid, above-trend pace of growth. That's good news for workers and those looking for a job but is likely to remain a source of frustration for recruiters looking to fill an abundance of open positions.