How do stocks typically perform when the Fed raises interest rates?
While Fed rate hikes may contribute some short-term volatility, equity market returns have been generally positive during tightening cycles.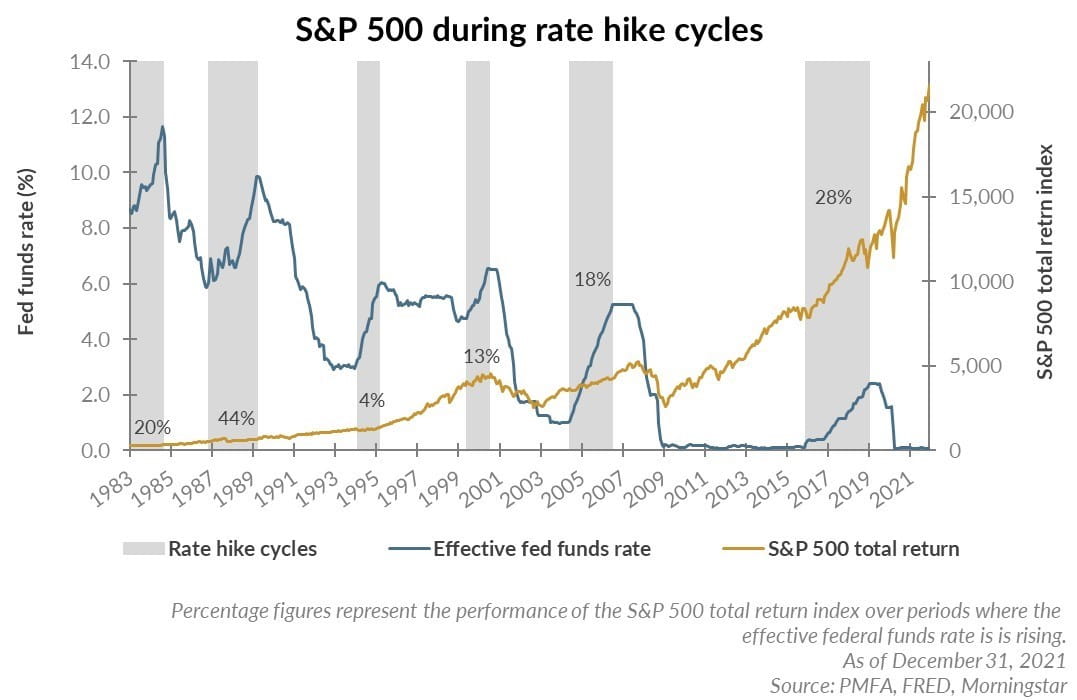 Nearly two years into the pandemic, the Fed is on the cusp of starting to unwind the aggressive stimulus that provided a bridge for an economy recovering from its steepest decline in history. Today, most indicators suggest that the economy has recovered to or beyond pre-pandemic levels. Labor market conditions are exceptionally tight, and inflation has risen to an uncomfortably high level. The combination has spurred the Fed to adopt a more aggressive stance and to recalibrate expectations for a more accelerated tightening cycle ahead. Markets are now pricing in roughly four rate hikes over the course of 2022 — a stark change from expectations for just one increase a few months ago.
The Fed's recent hawkish turn has also sparked some volatility in equity markets, particularly in growth-oriented sectors such as technology and communication services. The question for many investors is whether or not the Fed's tightening cycle marks an end to the equity bull market?
Over the past 40 years, periods of Fed tightening have typically coincided with periods also characterized by solid economic and corporate earnings growth, which provides a solid underpinning for U.S. equity performance. As shown in the chart above, stocks have historically advanced during prior Fed hiking cycles. In fact, the average cumulative total return for the S&P 500 over the past six rate hike cycles was just over 21%, with an average tightening cycle lasting for less than two years.
The bottom line? Rising rates may contribute to temporary bouts of market volatility; however, many of the same conditions that create the need for higher interest rates should also contribute to stronger corporate earnings growth — a key driver of equity market performance, as we discuss in our accompanying piece.