What factors drove stock market performance in 2021?
Robust earnings growth not only drove performance but helped to rein in frothy valuations coming out of 2020.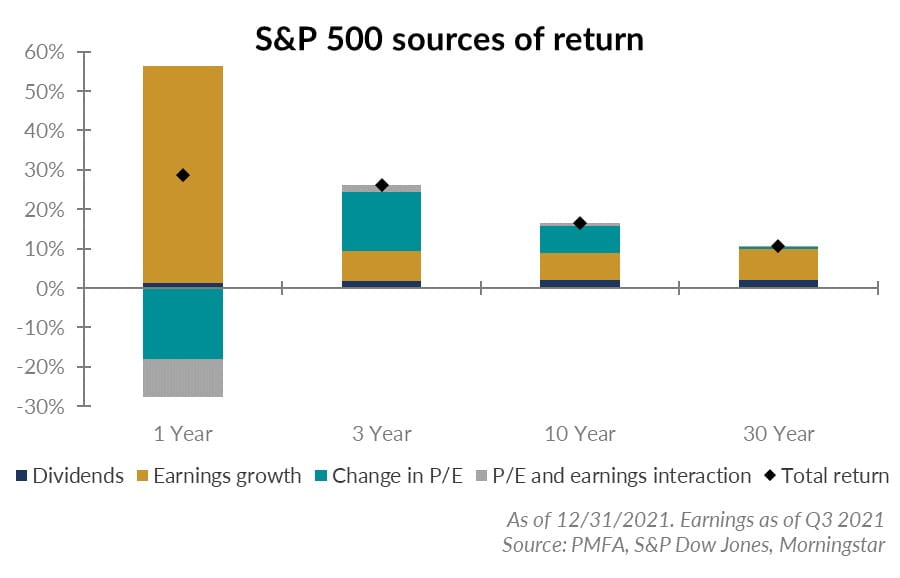 Equity market performance was exceptional in 2021, led by U.S. large-cap stocks, which returned nearly 29% for the year. This performance comes on the back of strong years in both 2019 and 2020, when the index returned 31% and 18% respectively. To put these results in context, the average annual total return for the S&P 500 index over the past 50 years was about 12.6% — less than half of the average over the past three years.
Against a backdrop of a global pandemic that has disrupted economic activity both in the United States and abroad, what explains these strong returns? Starting in late March 2020, stock markets rallied as significant fiscal and monetary stimulus and surprisingly rapid economic reopening boosted market sentiment. Investors looked ahead to a robust rebound in earnings expected in 2021, which particularly stretched equity valuations based on trailing earnings. However, in 2021, earnings rose by more than 50% over the prior year, easily surpassing expectations. Consequently, index price/earnings (P/E) multiples actually improved considerably. Despite the outsized 29% return for the index, earnings growth was even stronger.
As shown in the chart above, the reduction in the P/E multiple last year was somewhat of an anomaly in recent years. Over the past three- and 10-year periods, P/E expansion was a meaningful contributor to overall performance, as contrasted with long-term market returns, which were overwhelmingly driven by earnings growth and dividends.
As the Fed shifts toward tightening, equity valuation multiples will face a new headwind, as higher interest rates typically put downward pressure on market P/E multiples, all else being equal. Earnings growth will likely need to carry the baton in the next phase of the cycle, with dividends also playing a more important role as well. Should projections of above-trend economic growth be met, solid earnings growth should provide a key fundamental support for equities, even in the event of an uptick in market volatility.