Consumer confidence edged lower in February, but remains generally upbeat
The February consumer confidence reading dipped to its lowest point since September 2021. Inflation remains a risk, but multiple factors should continue to support consumer spending as the omicron variant fades.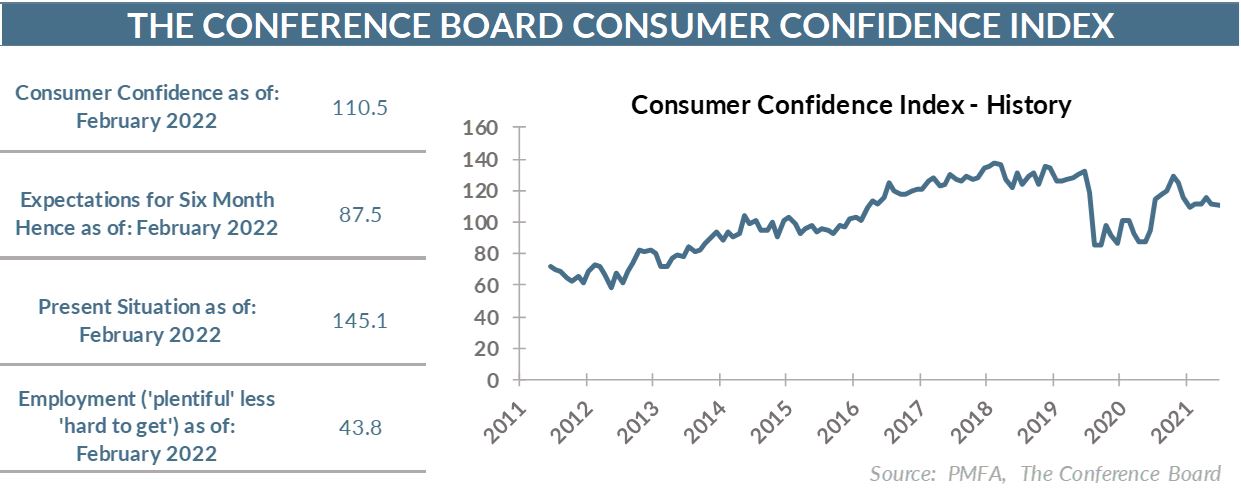 The Conference Board's measure of consumer confidence edged down to 110.5 in February, from a revised 111.1 in January, a result that was modestly above consensus expectations. The February reading marks the lowest point for the index since September 2021, when the Delta variant was weighing heavily on the collective consumer mood.
Despite two consecutive declines in the index, consumers are generally upbeat in their assessment of current conditions, while remaining more cautious in their longer-term views.
The relatively upbeat indication from the Conference Board's gauge stands in contrast to the University of Michigan's Consumer Sentiment Index, which has turned sharply lower in recent months. The divergence reflects the difference in scope and focus of the two gauges.
The consumer confidence index has a much greater focus on employment and personal income. Against the backdrop of strong job creation, low unemployment, an abundance of job openings, and strong wage growth, it's not surprising that consumers would express a positive view. Conversely, the consumer sentiment index takes a broader approach that results in a much greater sensitivity to inflation and the impact of rising prices on the consumer outlook. With the pace of consumer price increases running near four-decade highs, it's also not surprising that consumers are justifiably concerned by the impact of surging inflation on their financial well-being and spending power.
Although concerns about inflation are real and growing, there's also still a general sense that price pressures will ease in the intermediate term as supply chain woes gradually ease and demand cools. Long-term inflation expectations remain contained, roughly in line with the upper end of the expectations range in the last decade.
Recent equity market volatility could also be a source of anxiety for many consumers, particularly if stocks experience another downward leg from here. Rising interest rates and geopolitical risks have taken a toll on equity prices since late last year. Thus far, the impact on consumption has seemingly been limited. Whether or not consumers will adjust spending in response to the negative wealth effect of falling portfolio values remains to be seen. While portfolio values matter, the primary asset for most households is their personal residence. Surging home prices across the country have been fueled by strong demand and limited supply rather than speculation — a very different environment than during the housing bubble. That alone should provide greater sustained support for home values and household balance sheets.
Rising interest rates and geopolitical risks have taken a toll on equity prices since late last year.
There's certainly a chance that the confidence index understates the degree of consumer worries, given the sharp divergence across various gauges. With inflation rising, fiscal stimulus fading, and the Fed poised to raise interest rates, some cooling in consumer spending growth in the coming months wouldn't be surprising, particularly on goods and housing, which led the charge since the recovery began.
Still, consumers on the whole are flush with cash and the rapidly receding COVID-19 omicron variant are likely to provide a boost to travel and spending on services. A continued recovery in the services industry should be more than sufficient to sustain growth if goods spending falters as anticipated.
The bottom line? Inflation and rising interest rates are likely to remain headwinds to the consumer outlook. But strong labor market conditions, strong wage gains, and a massive cash stockpile should help to fuel continued spending growth as spring arrives and the negative impact of the Omicron variant fades.