How durable is the earnings outlook for U.S. equities?
Even after an exceptional increase in 2021, earnings growth is expected to remain strong over the next two years, particularly for smaller-cap stocks.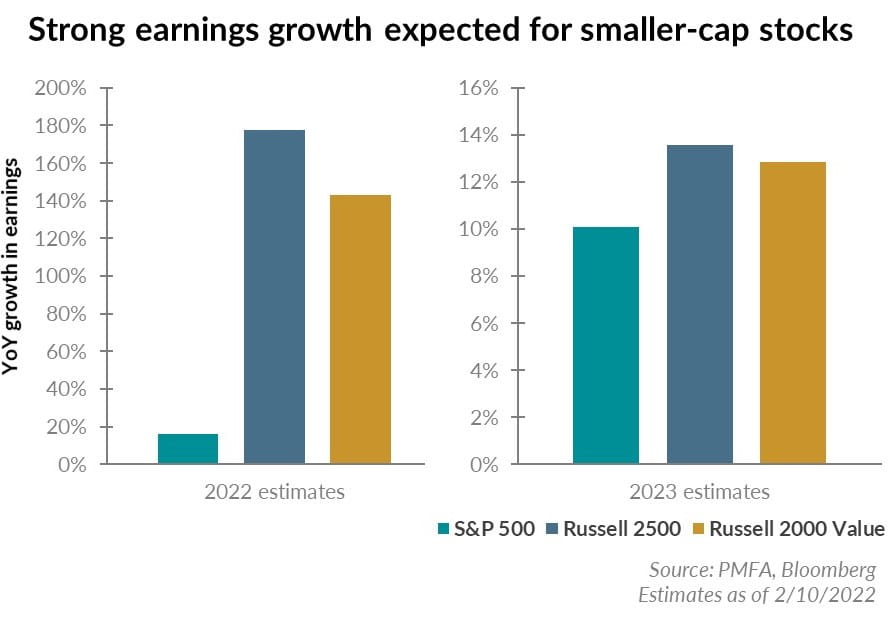 After a challenging 2020, corporate earnings rebounded sharply in 2021, helping to justify a marked improvement in investor sentiment and fueling a return of nearly 30% for the S&P 500 last year. But after a year of exceptionally strong earnings growth, how does the profit forecast change as we look ahead?
As shown in the chart above, broad market earnings growth expectations remain positive for 2022 and 2023 but are particularly robust for smaller-cap equities in the coming year. U.S. small- and mid-cap stocks (Russell 2500) are expected to grow earnings by nearly 180% in 2022, while small-cap value earnings (Russell 2000 value) are forecast to rise more than 140% this year. Large-cap earnings growth expectations are also positive but pale in comparison at a 16% projected pace. While it's still very early, earnings growth across the board is expected to slow considerably next year but remain solidly positive.
The relative pace of growth tells us something about potential opportunities across the equity market. As we noted in our commentary last month, earnings growth is overwhelmingly the primary driver of equity returns over the long term. Valuations also matter, as P/E multiples tend to revert to their long-term average over time, all else being equal. As a result, elevated valuations can act as a headwind to returns unless those higher P/E multiples are justified by superior earnings growth. Other factors, including the macro outlook and a probable rising interest rate environment in the coming years, also appear to provide a supportive backdrop for small-/mid-cap stocks going forward.
The bottom line? We believe that a variety of factors provide a favorable backdrop for small- and mid-caps over a multiyear time frame. In the context of maintaining broad global diversification, tilting portfolios away from large caps and toward small and mid caps could prove beneficial as we move through the next phase of the cycle.