How have stocks typically performed during Fed rate hike cycles?
Although each time is different, stocks have provided positive returns during Fed tightening cycles in recent decades.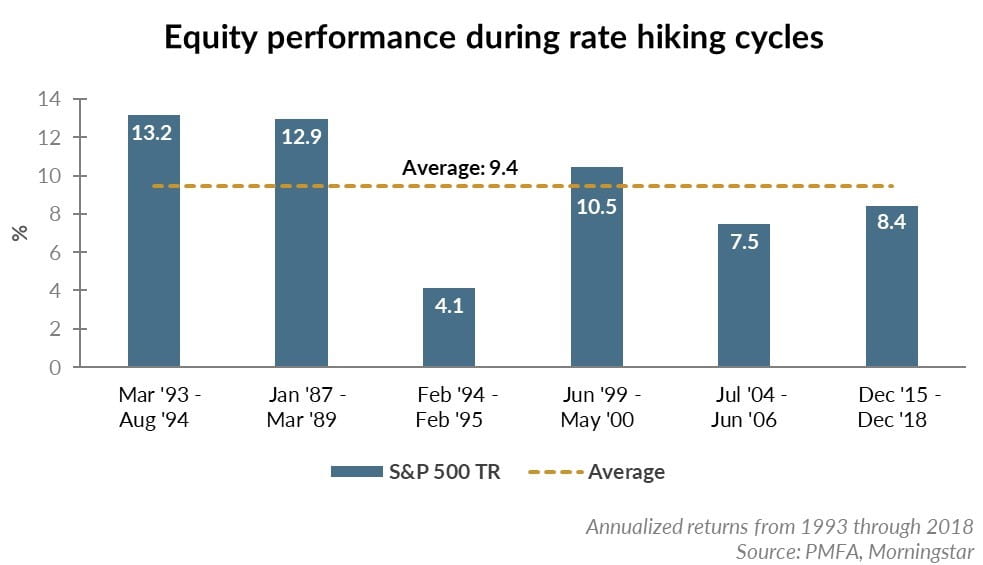 The recent surge in market volatility since November has been, at least in part, a reflection of investors recalibrating their expectations in light of accelerating consumer prices and a more aggressive Fed. Historically, a transition to Fed tightening has often been accompanied by increased equity market volatility, although such periods have generally been short-lived.
Of course, each tightening cycle is different by any number of measures, notably including its duration. Because each of those cycles was different in length, we have illustrated the performance on an annualized basis above. Since the early 1990s, the S&P 500 provided an average annualized return of over 9% during Fed tightening cycles, with all periods being positive. The question is, why have equities continued to advance as the Fed tightened monetary policy?
Arguably, rising interest rates should impact the pricing of stocks, by lifting the discount rate used to value future cash flows and weighing on P/E multiples to varying degrees, particularly for those parts of the market that are most stretched. Counterbalancing that, the Fed historically raises short-term rates when the economy is at risk of overheating. Broadly, that type of environment should be supportive of revenue and earnings growth, which — all else being equal — is supportive of positive equity market performance.
Other factors certainly play a role as well, as mentioned in our accompanying piece, but robust corporate earnings should remain supportive of stocks.
The bottom line? Rising rates can contribute to short-term market turbulence, reduce the value of expected future cash flows, and rein in stretched valuations, but stocks have generally provided a positive return even as the Fed tightens.