How long do stock market drawdowns typically last?
While stocks have recently experienced a surge in volatility, the recent pullback is not likely to end the equity bull market.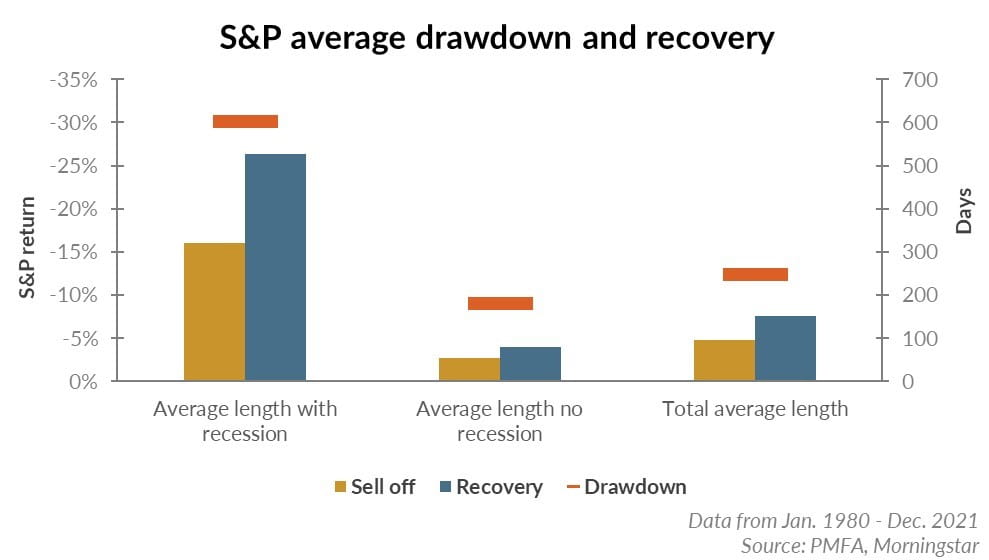 Coming off of a relatively calm period for stocks since the bull market began in March 2020, the recent uptick in volatility has understandably raised questions about the path ahead for equities. How long might this pullback last and how much downside could there be? While each market drawdown is unique in terms of its length and magnitude, a look at historical market performance may provide some insight on the topic.
As illustrated in the chart above, market pullbacks that occur in the context of a recession tend to be much more severe and drawn out. Against the backdrop of an economic expansion, periodic drawdowns still occur but tend to be much shorter and milder. Since 1980, the average pullback of more than 5% that wasn't tied to a U.S. recession lasted less than two months and resulted in a decline of about 9%, with the subsequent recovery taking about three months. Contrast that with the average S&P 500 decline of over 30% over 10 months accompanied by recessions that took nearly 18 months to recover.
While pace of global growth is slowing, the odds of a recession are relatively low at this time. Solid economic growth and accommodative monetary policy provide a favorable backdrop, supporting corporate earnings — all of which should bode well for the bull market in stocks and other risk assets to continue. Additionally, corporate and consumer balance sheets remain well positioned, with a tremendous amount of cash on the sidelines waiting to be deployed, some of which will likely make its way into stocks, providing support during the dips.
The bottom line? Periods of market volatility and occasional corrections are a normal part of the market cycle. Bear markets (declines of 20% or more) typically emerge in conjunction with the end of an economic expansion. Today, that risk appears low.