How well do stocks typically perform after a market correction?
Though market corrections can be unnerving in the short term, they're typically followed by periods of strong returns.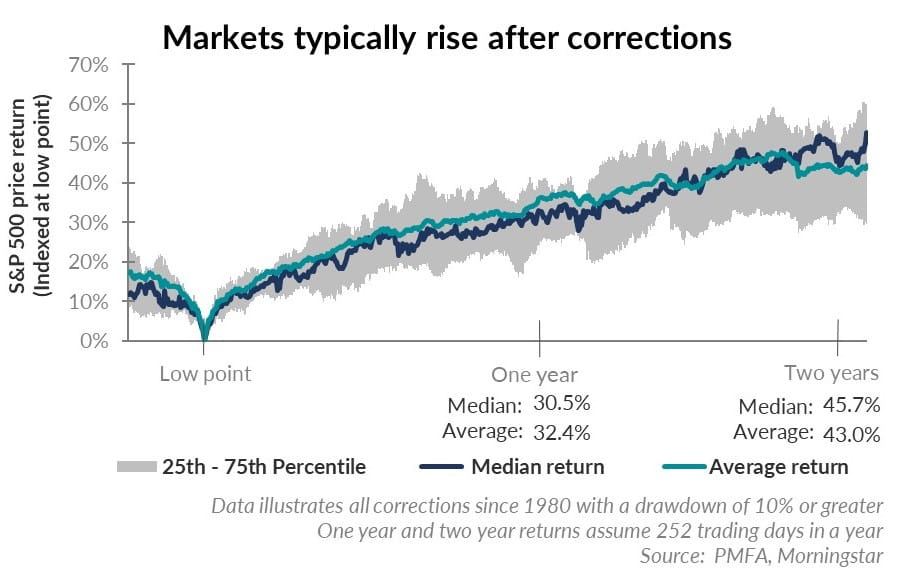 Market volatility has been elevated since the beginning of the year, as investor concerns around the persistence of inflation and an acceleration in Fed tightening have rattled both fixed income and equity markets. In response, the S&P 500 declined over the course of January, with the drawdown briefly touching correction territory (greater than 10%) in intraday trading on January 28.
Market corrections are a normal part of the market cycle. In fact, since the early 1970s, market corrections occurred in more than 50% of calendar years. And as we have discussed in previous commentary, the average intrayear drawdown for the S&P 500 over the past 20 years has been greater than 10%, even in years in which the S&P 500 finishes the year with a positive return.
As we discuss in our accompanying piece, outside of recession, drawdowns are typically relatively shallow and short-lived. That tells half of the story. The other key question focuses on the next stage: how do stocks typically perform after a correction?
As shown in the chart above, equity performance has historically been quite strong in the two years following a market correction. In fact, the S&P 500 has seen an average cumulative price return, excluding dividends, from the low point of about 43% over the two-year period following a correction. The median return has been even higher at nearly 46%.
Of course, every recovery is different, but history indicates that periods of volatility are often a precursor to periods of above-average returns. Staying invested and rebalancing your portfolio as needed remain the best strategy for navigating periods of market volatility and uncertainty.