Inflation rises to its highest level in four decades
Consumers continue to feel the effects of rising costs, which still show few signs of abating.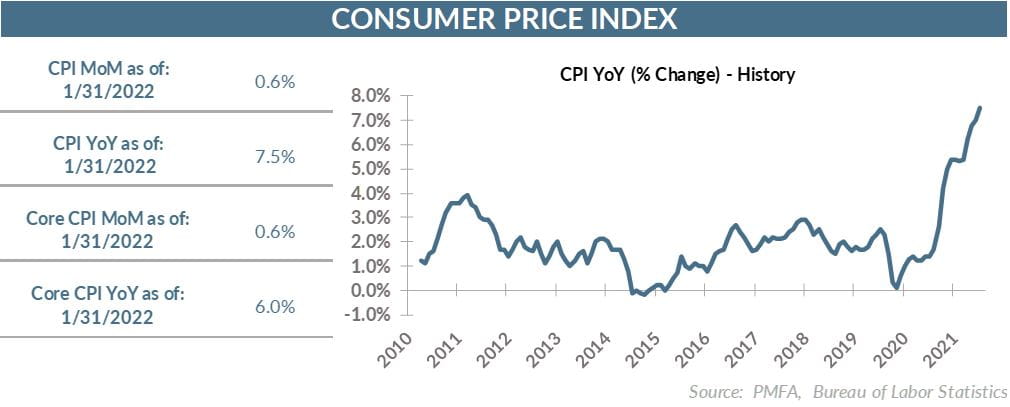 For those looking for signs of inflation pressures starting to ease, the January report was expected to provide some good news. The consensus forecast was for a 0.4% increase, which would have been the fourth consecutive month in which the rate of monthly change declined after peaking at 0.9% in October. Instead, the index rose by 0.6%, lifting the 12-month change to 7.5% — the highest level in four decades. This is a stark reminder that the state of the economy isn't measured solely by solid GDP growth and a strong labor market.
Core CPI, which strips out food and energy, reached 6.0% — its largest 12-month gain since August 1982, when prices were falling sharply as the Fed aggressively raised rates and sent the economy into recession.
Food and energy costs both rose by nearly 1.0% in January, taking a direct bite out of discretionary spending capacity for the average household. Price increases for groceries were widespread throughout most food categories.
The persistence of price hikes in the last year has dampened the impact of strong wage growth. Average hourly earnings rose by 5.7% over the past year, as tight labor market conditions and abundant job openings created a very competitive environment for employers. Despite those outsized wage gains, rising consumer prices over that time have eroded the impact of those gains for the average household. Adjusted for inflation, average hourly earnings declined by 1.7% in 2021.
In the short term, any negative effect on consumer spending was mitigated by a buildup in savings and a reduction in debt service costs since the onset of the pandemic. Consumers had the wherewithal to continue to spend more, even adjusted for inflation, but that won't persist indefinitely.
The two big questions that arise out of the report are "when will inflation ultimately peak" and "how aggressively will the Fed move to tame prices." Hopes had risen that three consecutive monthly readings that suggested that the pace of increase was slowing would carry through to January, but that didn't happen. Q2 still appears to be a likely time frame for the 12-month number to peak, given the significant acceleration in monthly index readings in Q2 2021. The base effects should be less challenging as the year progresses.
As for the Fed, the most recent data on jobs and inflation provides even more evidence of the need for policymakers to take more aggressive steps to tighten than would have been deemed necessary not that long ago. Despite a much more hawkish tone struck by the Fed since December, markets and many economists remain skeptical that their revised rate forecasts will be sufficient.
Of course, tighter Fed policy can help to alleviate demand but won't address the significant underlying supply-side troubles across the globe. From reduced production capacity to tight labor markets and supply chain bottlenecks, many headwinds remain. It's those underlying challenges that won't be as easily resolved.
The bottom line: Inflation remains the single largest near-term challenge to the economy. Although price pressures are expected to ease as the year progresses, inflation will remain above the Fed's 2.0% target for some time to come.
Media mentions:
Our experts were recently quoted on this topic in the following publications: