Retail sales increased by 3.8%, surpassing expectations
Consumer spending came roaring back in January after a weak close to 2021, but enthusiasm about that gain should be tempered by the reality of its underlying causes.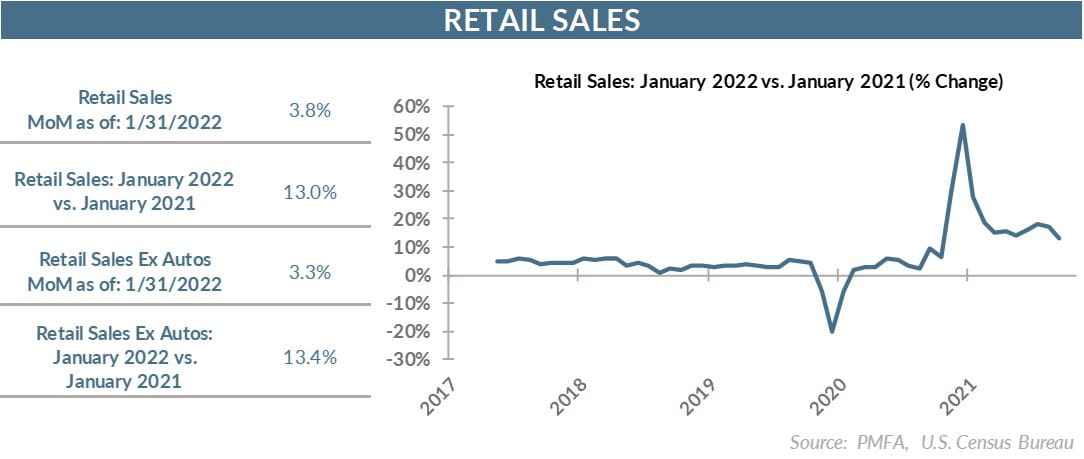 Retail sales rose by 3.8% in January, easily beating consensus expectations for a 2.0% increase. Core retail sales, excluding automobile and gasoline sales, also increased by 3.8% from the previous month.
The January surge in spending likely reflects a handful of factors, but the irregularity in the trend in recent months should temper enthusiasm about the single-month gain. Accompanying the large January gain was a downward revision in December sales from -1.9 to -2.5%. Higher prices for a wide range of goods and services is clearly captured in growing retail sales but doesn't fully account for the hefty January increase.
Coming off of surprisingly weak December numbers, one probable catalyst behind the January surge is the increased use of gift cards, which aren't reflected in retail sales until they're redeemed. Data suggests that gift card sales were up considerably in late 2021, which could go a long way in explaining the soft December retail data and the sharp snapback in January.
Given shortages of some goods leading into the holidays, the surging omicron variant keeping more people home, and concerns about shipping delays, gift cards undoubtedly became the best option for many shoppers. The 14.5% spike for nonstore retailers in January likely reflects that temporary post-holiday surge in gift card redemptions. In that regard, the January gain may be largely explainable by the December decline and the accounting nuances that caused each.
Auto sales rebounded sharply in January, despite other recent data that indicated that new car sales could be faltering as inventories remained tight. Higher prices are helping to offset declining volume.
Looking ahead, questions remain and expectations remain tempered by measures of consumer sentiment that recently reached their lowest point in over a decade. Recent indications of the collective consumer mood have suggested a renewed sense of concern about the near-term economic outlook, which often correlates to slower spending. At the top of the list of concerns is the reality of inflation, which has increasingly seeped into more parts of the economy.
The reality of rising prices hasn't been lost on consumers. Strong labor markets have helped to lift wages, but those extra dollars in paychecks have been more than offset by rising costs.
To this point, it appears that consumers have been able to absorb those higher costs and continue to increase their spending even after accounting for inflation. Whether they will have the appetite or ability to sustain that remains to be seen. For now though, they may not like the inflation they are seeing, but they have been able to absorb it.
The bottom line? While January retail sales were robust, expectations for continued strength should be tempered. The one-time benefit of gift card redemptions will tail off quickly, and rising prices remain a significant headwind to real spending growth in the months ahead.